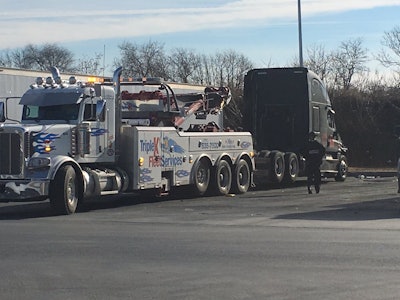 A Pennsylvania court has sentenced a Texas-based trucker to up to six years in prison for his role in the death of another trucker earlier this year along I-81, according to a report from Harrisburg, Pa. news station ABC27.
Alan Kegel, 57, of Leander, Texas, was ordered to serve 3-6 years in prison after pleading no contest to homicide by vehicle in September, the station reports.
Kegel reportedly told police he was fatigued and "may have fallen asleep" on Jan. 13 when he sideswiped another truck that was on the side of the road. New York-based trucker Zivko Lakic, 24, was reportedly standing next to his truck when he was struck and killed.
Kegel reportedly didn't stop at the scene of the accident and pulled over later to inspect the truck, then continued on to a truck stop to sleep. Police said Kegel denied knowing he had hit a person.
Truck believed to have been involved in fatal hit-and-run this AM near Mechanicsburg found off I-81 in Dauphin Co. Getting towed @fox43 pic.twitter.com/YQoUe0HwKZ

— Matt Maisel (@Matt_Maisel) January 13, 2017