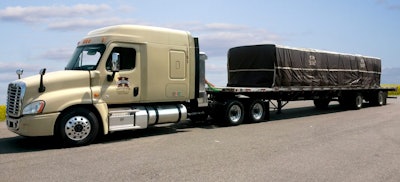 Four trucking fleets recently announced pay changes for their drivers ahead of the holiday season.
K&B Transportation (No. 124 on the CCJ Top 250), based in South Sioux City, Neb., raised the sign-on bonus it offers during November to $1,650. The bonus is paid out in increments over the new hire's first three paychecks – $900 on the first check, $500 on the second and $250 on the third.
K&B drivers start out at 45 cents per mile and are guaranteed 2,500 paid miles per week, giving drivers a $1,125 per week minimum.
Bulldog Hiway Express, a Daseke company out of Charleston, S.C., announced a new driver pay program, which includes a guaranteed minimum of $1,000 a week for flatbed drivers.
The company's "Salary Plus" program offers a minimum of 50 cents per loaded mile on an average of 2,000 total miles weekly; $300 additional weekend pay after two consecutive weekends out; $100 for clean DOT inspections; $1,000 sign-on bonus; $3,000 referral bonus; paid vacation after a year with the company; and $50,000 in company-paid life insurance.
W.N. Morehouse Truck Line, out of Omaha, Neb., is increasing per-mile pay for drivers based on service time with the company. Effective Dec. 1, the company will increase starting pay for company drivers to 42 cents per mile with top-out at 49 cents per mile for drivers with 10 or more years with the company.
Hornady Transportation, a Monroeville, Ala.-based flatbed fleet, is guaranteeing its drivers $1,000 minimum weekly pay.
Additionally, drivers hired with at least three years of driving experience will receive 53 cents per mile, up from 49 cents per mile. On each anniversary date, drivers will receive a one-cent increase up to 56 cents per mile. Current Hornady drivers are also getting an increase from 52 to 54 cents per mile.