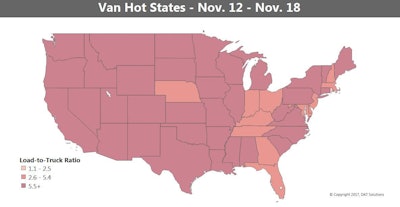 Spot market freight rates have been on a steady incline since a slight lull four weeks ago. Fuel prices have also been climbing. The national average for a gallon of diesel is 49 cents higher than a year ago, which has been part of the upward pressure on rates. The impending ELD mandate and a generally unprecedented demand for trucks round out the picture, as you can see in the nearly nationwide deep red of the van map above. Last week saw a record number of loads moved on the top 100 van lanes.
Hot markets: Volumes surged out of Houston and Stockton, Calif., last week. Los Angeles is still No. 1 for van loads, and the counts there kept climbing, with high demand on eastbound lanes. Outbound rates rose in practically every major West Coast market, while Memphis van rates also got a boost.
Not so hot: We're in the retail season for freight, which leads to higher demand and rates on inbound lanes to the Northeast. As a result, outbound rates in places like Philadelphia fell last week. There were some big drops on a handful of lanes, but the average rates were still pretty high. For example, Philadelphia to Buffalo, N.Y., was down 37 cents but still averaged $2.60 per mile.
Reefer overview: Wet fields and high temps led to lower produce yields out of California this past summer, but now refrigerated freight seems to be everywhere. California volumes were up 14 percent, while Texas reefer load counts rose 10 percent last week.
Hot markets: There were some crazy-high average rates last week, with shippers rushing to get stores stocked ahead of Thanksgiving. Reefer loads going from Sacramento, Calif., to Portland, Ore., paid an average of $3.47 per mile, 61 cents higher than the week before. Demand was also high out of Southern Idaho, and the lane from Twin Falls to Phoenix was up to $3.43 per mile.
Not so hot: Reefer rates out of the Upper Midwest continued to transition lower, but as you can see in the Hot States Map up above, demand is still high. As a result, lanes like Grand Rapids, Mich., to Madison, Wis., went from "very-high" down to just "high," falling to $2.79 per mile.