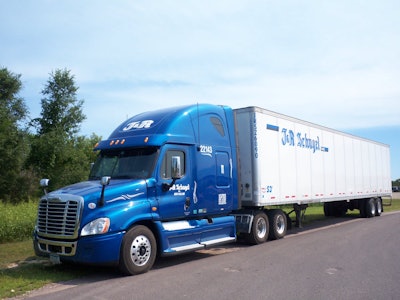 J&R Schugel (No. 158 on the CCJ Top 250) is offering over-the-road truckers with at least six months of experience a $15,000 sign-on bonus through the end of the year.
Company drivers for the 600-plus truck fleet can also earn an additional $500 per month for two-and-a-half years after their first full month of employment.
Eligible drivers can receive $250 for between 7,500 and 9,999 dispatched miles driven in a month or $500 for 10,000-plus dispatched miles.
"The incentive directly relates to driver productivity and retention, while giving them an additional earning potential on top of their base pay rate," said Courtney Wittman, Director of Human Resources for J&R Schugel. "Once the sign-on concludes a company driver will then be eligible for the Employee Stock Ownership Plan and start earning shares towards retirement."