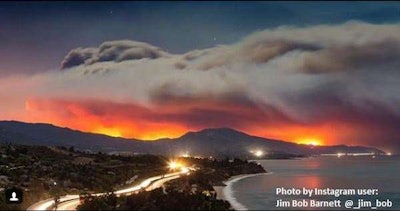 #ThomasFire [update] Hwy 150 and Hwy 126, north of Santa Paula (Ventura County) is now 65,000 acres. Unified Command: CAL FIRE, @VCFD_PIO, @LosPadresNF and Ventura City FD https://t.co/vfLtDXYjzO pic.twitter.com/hQJnJIomjE

— CAL FIRE (@CAL_FIRE) December 6, 2017
A wildfire that has burned more than 60,000 acres in Ventura County, California, has prompted Gov. Jerry Brown to issue a State of Emergency for the county, suspending hours-of-service regulations for certain drivers. The fire has also caused several highway closures in the area.
Drivers who aid in the removal and disposal of waste and debris caused by the fire will be able to operate under suspended hours rules. The suspension only applies to those who are helping in clean-up and recovery efforts.
According to the California Department of Forestry and Fire Protection, the fire has burned at least 65,000 acres as of noon Pacific time Wednesday. Mandatory evacuations are in place for the cities of Santa Paula and Ventura.
California Highway 150 and California Highway 33 are closed in certain areas, along with many city and county roads.