Dry van volumes were pretty similar last week to the week before. Rates started to settle down after the peaks we saw around Thanksgiving, and the surge in volumes that sent prices skyward on the West Coast is mostly in the rearview – all normal stuff for this time of year. Then the electronic logging device mandate happened, a wild card that could change those normal trends.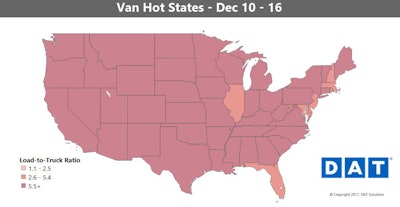 Van hot markets: Outbound rates in most of the major van markets were down last week, falling from their post-Thanksgiving peaks but still mostly higher than they were a month ago. The exceptions were Buffalo, N.Y., Allentown, Pa., and Houston. Retail freight is likely the cause for the increases out of Buffalo and Allentown, as both are distribution hubs for the major population centers in the Northeast.
Not so hot: There were a few significant drops last week, but nothing out of the ordinary for this time of year. For instance, van rates on the lane from Chicago to Atlanta fell 22 cents to $2.74 per mile. All of those declines were pre-ELD mandate, though, so those drops might be temporary or at least slowed.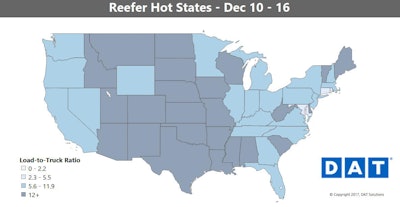 Reefer overview: Lower rates in many places are coming down from some historically high reefer rates, so prices are still high for December. We'll still have to wait and see what effect the ELD mandate has on spot market reefer freight.
Hot markets: Reefer load counts in Florida were up 8 percent last week, but since this is the off-season, volumes are relatively low. It was still enough to push rates on the lane from Miami to Elizabeth, N.J., up 28 cents to an average of $1.75 per mile. Fires in Southern California may have affected reefer rates on the lane from Ontario, Calif., to Seattle, which rose 34 cents to $2.80 per mile.
Not so hot: Idaho still shows up as dark blue in the Hot States Map for reefers, but a couple big declines out of Twin Falls in the southern part of the state suggests that grocery stores have the potatoes they need for Christmas. For example, the lane from Twin Falls to Chicago dropped 40 cent to $2.08 per mile on average.