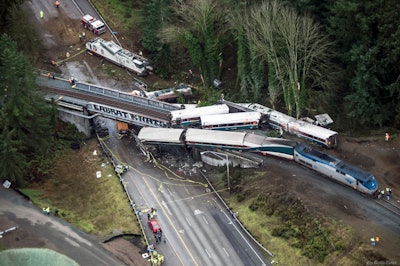 Update: Thursday, Dec. 21, 6:45 a.m. Pacific – Washington State DOT crews were able to get all lanes of I-5 Southbound reopened overnight Wednesday in time for the Thursday morning commute. The southbound lanes of the interstate had been closed since Monday morning when an Amtrak train derailed off of an overpass and onto the highway.
According to WSDOT, crews were able to complete work to the roadway ahead of schedule. There are no remaining closures as a result of the derailment.
Original story follows:
While locomotive & all cars are removed from SB I-5, still a lot of work to be completed before we can get traffic moving again.
-Please continue delaying travel if you can
-Expect continued delays on detour routes pic.twitter.com/jVobzJCsYL

— WSDOT Tacoma Traffic (@wsdot_tacoma) December 20, 2017
The southbound lanes of Interstate 5 in DuPont, Wash., remain closed following the derailment of an Amtrak train Monday morning.
Washington State Department of Transportation officials said in a Wednesday morning update there is no timetable for when the southbound lanes of the interstate will reopen.
WSDOT recommends commercial vehicles traveling south take State Route 16 north out of Tacoma to State Route 3, then to U.S. 101 to get back to I-5 near Tumwater. The department says it is "seeing significant congestion on SR 507 and SR7″ and doesn't recommend taking SR 302.
Crews were working Wednesday morning to remove the 270,000-pound locomotive from the interstate. All of the train's cars that derailed onto the interstate had been removed by the time the locomotive was removed Wednesday, according to WSDOT. The department has to repair damage to I-5 before it is reopened.
Three train passengers were killed and more than 100 injured when the train derailed and jumped the tracks on the I-5 overpass. National Transportation Safety Board investigators said the train was traveling 80 miles-per-hour in a 30-mph zone when it left the track. The train was on its first run on a new route between Seattle and Portland.
✅No estimate for when SB I-5 in DuPont will reopen
✔️It's unlikely to be before Wednesday morning's commute.
✔️Please make alt plans now.
✔️Consider using SR 16/SR 3/US 101 (no bridge tolls Tac to Gig Harbor) pic.twitter.com/j1mg7fKn6m

— WSDOT Tacoma Traffic (@wsdot_tacoma) December 19, 2017
Aerial photos of the #AmtrakDerailment near #MountsRoad #Dupont & #Olympia – more at @seattletimes: https://t.co/78nGtkKeKl pic.twitter.com/nDVjLhgVfU

— Bettina Hansen (@bettinahansen) December 18, 2017