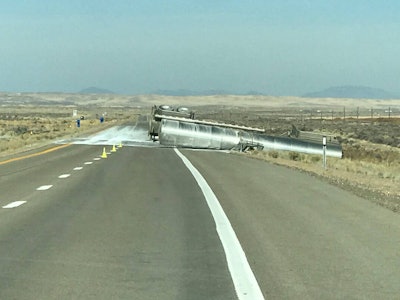 A Montana-licensed trucker has been effectively shut down by the Federal Motor Carrier Safety Administration following two crashes within two weeks in late 2017.
Robert Schefflmaer was driving on I-80 in Elko County, Nev., on Oct. 18 when he lost control of his truck hauling hazardous materials, crossed the median and entered opposing lanes of traffic. The trailer separated from the truck and overturned, spilling approximately 51,000 gallons of ammonium bisulfate and partially blocking the highway.
During a post-crash drug test, Schefflmaer tested positive for a Schedule 1 controlled substance. The post-crash investigation also revealed Schefflmaer had multiple hours-of-service violations in the two weeks leading up to the crash.
Then, on Nov. 1, while hauling a load of livestock in Montana, Schefflmaer again lost control of his truck, resulting in it overturning and killing 20 calves. He was cited and later convicted for careless driving.