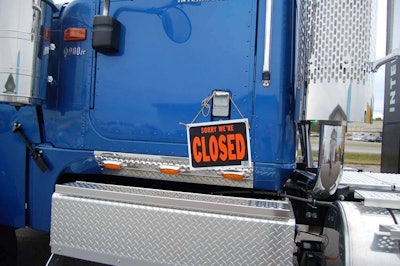 Daya Trucking, a Georgia-based 39-truck fleet, has been effectively shut down by the Federal Motor Carrier Safety Administration for reincarnating after being given an "Unsatisfactory" safety rating in 2017.
According to FMCSA, Daya was formerly known as Ekam Truck Line. In 2017, Ekam agreed to enter a Consent Order in order to upgrade its safety rating from Unsatisfactory to Conditional. The fleet's Unsatisfactory rating was the result of a number of safety violations, FMCSA says.
The Consent Order required Ekam to take specific actions to improve safety, however, the company performed none of these actions, FMCSA adds, and instead evaded the order by applying for U.S. DOT registration as Daya Trucking. Following an investigation, FMCSA reinstated Ekam's Unsatisfactory rating and merged and consolidated the safety and enforcement records of Ekam and Daya.
The investigation revealed a number of safety violations, including:
Hours-of-service violations. FMCSA says Daya used non-compliant Automatic On-Board Recording Devices (AOBRD) system that allowed drivers to alter their logs and manually input odometer readings. The agency notes that Daya's AOBRD system recorded 4,802 hours of unidentified driving time between Jan. 1 and Feb. 28, 2018, resulting from 51 instances of drivers unplugging or disabling the devices.
Pre-employment drug/alcohol testing. Daya allowed seven drivers to operate trucks before receiving negative pre-employment tests, and four drivers were known to have tested positive for controlled substances and were dispatched by the company, the agency says.
Failing to ensure drivers were properly licensed. Investigators found where five drivers without a current CDL or in possession of a suspended CDL had been dispatched.
Vehicle maintenance violations. In the past 12 months, Daya vehicles had been placed out-of-service at a rate of 46 percent and cited for inoperable lamps, exposed tire fabric, defective brakes, broken or missing axle position components and oil or grease leaks from hubs.