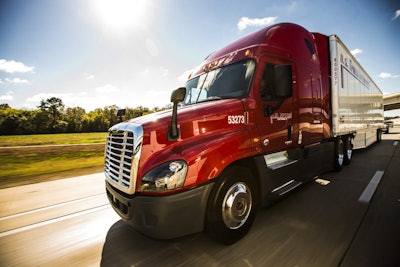 U.S. Xpress (No. 16 on the CCJ Top 250) announced this week it will offer $50,000 bonuses — paid in $2,000 increments and in vacation time over a four-year period — to current and future team drivers.
For every 60,000 miles a team runs, they will receive $2,000 — $1,000 to each driver — along with $500 in paid vacation per driver, according to Danna Bailey, U.S. Xpress vice president of corporate communications. Bailey says teams can earn up to $8,000 each year in bonuses and $4,000 in vacation time by running 60,000 miles four times over the course of a year. If the drivers choose not to take vacation time, they will be paid $500 per driver for each week of unused vacation at the end of each year.
After the team has earned a total of $48,000 in bonuses, which would take four years of driving at least 240,000 miles per year, each driver will receive a final payout of $1,000.
Additionally, drivers in this program will have first priority on new trucks, will have top priority at service centers to minimize downtime, and can earn up to 82 cents-per-mile.