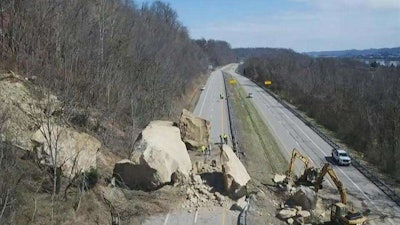 A rockslide along Ohio Route 7 near Chesapeake, along the Ohio River near Huntington, W.V., has closed the highway completely in the westbound direction, while one eastbound lane has been closed.
According to a report from local news station WSAZ, huge boulders, smaller rocks and trees fell onto the highway just before 7 a.m. Monday, Feb. 26. No vehicles were hit by the rockslide, and no one was hurt, the report states.
There is currently no timetable on when the boulders will be cleared and the road repaired, but the Ohio Department of Transportation says it could be up to three weeks.
Westbound travelers will be detoured onto the 17th Street and 6th Street bridges and I-64 through West Virginia.
ROCK SLIDE: Traffic on Ohio's Route-7 came to a standstill following a massive rock slide earlier this week. Crews are working to clear the four-lane highway but it could take up to three weeks to remove the remaining loose rocks and rubble. #TenNews pic.twitter.com/S0sqgPSljg

— Sandra Sully (@Sandra_Sully) February 28, 2018
Ohio rockslide blocks Route 7, road expected to be closed multiple days. https://t.co/emIcOk6etu pic.twitter.com/U1O8u75V5P

— WTTE FOX 28 (@fox28columbus) February 27, 2018