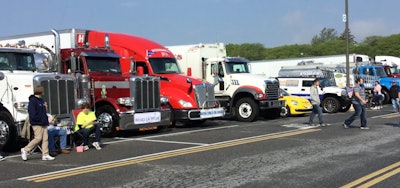 The annual Mother's Day Convoy in Pennsylvania put on by the Make-A-Wish Foundation, will be held May 13, aiming to raise $500,000 to help grant the wishes of critically ill children.
The Philadelphia, Delaware and Susquehanna Valley Chapter of Make-A-Wish expects around 600 truck drivers to raise $300,000 for the event, which will be held on Mother's Day on Sunday, May 13. With sponsorships and proceeds from the Mother's Day carnival, the group hopes for more than $500,000 raised.
If the chapter hits that goal, it would cover the cost of 50 of the 75 wishes the chapter will grant to children in 2018.
The convoy will once again assemble at the Burle Business Park in Lancaster, Pa. Grounds will open at 6 a.m. for truckers and 8 a.m. for the general public. Plans call for the convoy to depart the business park at 1:30 p.m., travel to Ephrata, Pa., and return.
Road Pro is once again the presenting sponsor for the event. Truckers, trucking companies and potential sponsors can register online to participate in the convoy or donate to existing teams. A $100 minimum donation is encouraged for convoy drivers. Driver registration includes a T-shirt and a gift bag.
The event started in 1990 when a Make-A-Wish child requested a wish to ride in an 18-wheeler and talk on a CB radio. That year, more than 40 trucks and drivers came out to participate. The event has grown over the past 28 years, and last year, some 595 trucks participated in the event, raising approximately $300,000 out of the $450,000 total raised for the Make-A-Wish chapter.