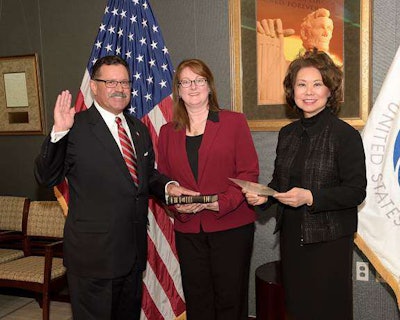 Embed from Getty Images
Raymond P. Martinez, the new administrator of the Federal Motor Carrier Safety Administration, has officially assumed the role as boss of the U.S. DOT's trucking and bus regulatory agency, FMCSA announced late Wednesday.
He was sworn in Wednesday by Transportation Secretary Elaine Chao.
"Ray's years of experience promoting traffic safety at the state level, as well as his knowledge of the commercial motor vehicle industry, will help FMCSA fulfill its critical mission of improving truck and bus safety," Chao says.
Martinez was selected last fall by President Trump to head FMCSA. He was confirmed by the Senate in February. The last eight years, Martinez has served as the New Jersey Motor Vehicle Commission's Chairman and Chief Administrator, where he advised the state's governor and legislature on all areas of motor vehicle transportation and traffic safety and was responsible for developing the agency's regulatory and legislative agenda.
"It's an honor and privilege to serve my fellow Americans in this capacity and, under Secretary Chao's leadership, I look forward to working with all commercial vehicle stakeholders to effectively reduce the number of truck and bus crashes on our nation's roads," said Martinez.
Martinez told a panel of Senators in October he intends to uphold the agency's electronic logging device mandate and to implement data-driven reforms to how the agency regulates safety.
Martinez succeeds Scott Darling, who ran the agency in the final two years of President Obama's term. Darling's term ended when Trump assumed office, and FMCSA Deputy Administrator Daphne Jefferson has headed the agency on an interim basis since last January.