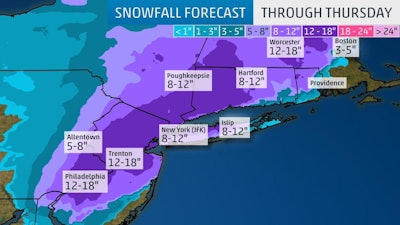 Due to the coming storm, beginning at midnight tonight, PennDOT will impose a ban on certain trucks, trailers, and recreational vehicles on selected eastern PA routes. Learn more at https://t.co/GllVIXkh0y. #PAWinter CC: @P_M_T_A @TruckerTweet pic.twitter.com/nosXxCVG4V

— PA Department of Transportation (@PennDOTNews) March 6, 2018
Three states in the path of another nor'easter in the northern Mid-Atlantic and Northeast have issued truck restrictions on major interstates in preparation the storm. The National Weather Service says snow accumulations "could easily surpass 1 foot for areas west of the I-95 corridor" by Thursday evening.
Drivers traveling through Pennsylvania, New Jersey and New York should expect delays and even layovers, as the states have issued restrictions on trucks and other large vehicles for many major thoroughfares.
In Pennsylvania, restrictions have been placed on five interstates, as well as a portion of the Pennsylvania Turnpike. The restrictions are as follows:
I-78 from the junction of I-81 to the New Jersey state line
I-80 from the junction with I-81 to the N.J. state line
I-81 from the Maryland state line to the New York state line
All of I-84 in Pennsylvania
All of I-380 in Pennsylvania
The Pennsylvania Turnpike's northeastern extension between the Lehigh Tunnel and Clark's Summit, and the east-west main line from Harrisburg to the Delaware River Bridge.
PennDOT says these restrictions will remain in place as long as warranted through the storm. As conditions develop, speed restrictions and wider truck and vehicle bans will be considered on these routes.
New Jersey has placed truck restrictions on both directions of I-78 between the I-78 toll bridge and the Pennsylvania state line, as well as on I-80 in both directions between the I-80 toll bridge and exit 260.
Finally, in New York, Gov. Andrew Cuomo has issued a travel ban on tractor-trailers for the following interstates:
New York State Thruway from exit 36 (Syracuse) to the New York City Line, including the Berkshire Spur to the Massachusetts state line, I-95, Garden State Parkway Connector and I-287
I-88 from Binghamton to Albany
I-81 from the Pennsylvania state line to the New York State Thruway
Route 17 Binghamton to I-84
I-84 from the Connecticut state line to the Pennsylvania state line
I-684 from I-84 to I-287
The nor'easter is expected to bring heavy snow from Philadelphia to New York City and into eastern Connecticut on Wednesday before continuing all the way up into Maine on Thursday. This storm comes on the heels of a nor'easter that hit the region late last week that claimed nine lives.
Latest TWC snowfall and potential power loss forecasts. Difficulty remains in exact numbers as snow gradient will be large near Rain/Snow Line, but this is where we stand right now. Regardless, high impact storm this afternoon. pic.twitter.com/LQUuiJ4COT

— Jim Cantore (@JimCantore) March 7, 2018