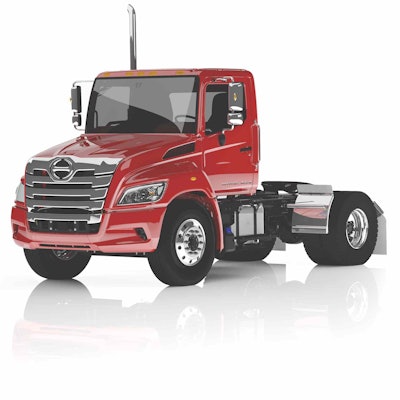 Toyota jumped feet-first into the heavy truck market at the Work Truck Show in Indianapolis Wednesday with the debut of the Hino XL Series.
"Entering Class 8 [is] arguably something no OEM has done successfully in the last 50 years," says Hino Director of Marketing Dominik Beckman.
Assembled in Mineral Wells, W.Va., the Class 7 XL7 and Class 8 XL8 will be available in wheelbases of up to 304 inches and both will be powered by Hino's 8.9-liter A09 engine – an engine that has been in global production for more than a decade and, according to Hino Vice President of Customer Experience Glenn Ellis, has logged more than 15 billion miles the world-over.
"Our focus is to provide safe, economical and sustainable transportation to the world," adds Yasuhiko Ichihashi, Chairman of Hino Motors.
The engine features a range of 300-360 horsepower and up to 1,150 lb.-ft. of torque.
The XL Series will be offered in several straight truck and tractor configurations ranging from a GVWR of 33,000 to 60,000 pounds and a GCWR up to 66,000 pounds.
Wednesday's debut of the trucks was the fruit of more than 500,000 hours of engineering, which saw the unit sketched and conceptualized from the ground up.
Even though Hino's design process was what Beckman called "white board," the company has relied heavily on major trucking component manufactures. Both the Class 7 and Class 8 truck come standard with Dana axles and drivelines, Wabco brakes and Hendrickson suspension.
Tractor configurations come standard with Wabco's stability control platform and the company's OnGuard Active is available as an option. Hino Insight, the company's telematic platform, will be standard as will LED headlights.