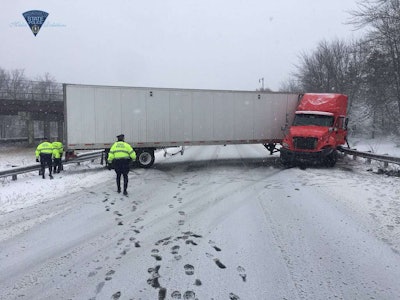 For the third time in two weeks, a nor'easter storm is wreaking havoc on the Northeast, causing some states to institute tractor-trailer bans on highways Tuesday, March 13.
The Rhode Island Department of Transportation placed a travel ban on tractor-trailers on all state highways from 4 a.m. to 4 p.m. Tuesday. Gov. Gina Raimondo announced the truck ban late Monday night on Twitter.
Several tractor trailer accidents in Massachusetts Tuesday morning prompted the Massachusetts State Police to issue a truck ban on the Massachusetts Turnpike (I-90) from the New York state line to exit 14, just west of Boston. There is no timetable on when the restriction will be lifted.
Connecticut Gov. Dannel Malloy issued a statement Monday night acknowledging Rhode Island's truck ban, but said his state didn't have plans at the time for a similar ban.
#MAtraffic Crash, Tandem TT unit jackknifed, I-90 EB at the 87 mm in #Charlton. ALL lanes closed. #MAsnow ❄️ pic.twitter.com/6x7DbvUE3L

— Mass State Police (@MassStatePolice) March 13, 2018
#MAtraffic Crash, jackknifed TT unit. I-90 WB, 88 mile marker in #Oxford. pic.twitter.com/BaxPCSPEjK

— Mass State Police (@MassStatePolice) March 13, 2018
#MAtraffic TT jackknifed, I-91 NB just north of x.24 at #Deerfield #Whately town line. All lanes closed. Traffic detoured at x.24 in #Whately. pic.twitter.com/YDEITEOmI8

— Mass State Police (@MassStatePolice) March 13, 2018