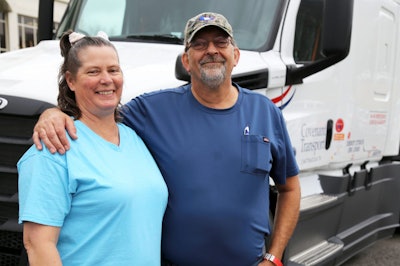 Previously in this series: Team driving: E-commerce, 'driver shortage' pushing team pay to new heights
Federal hours of service regulations are the same for team drivers as solo drivers, though one team truck has two on-duty and driving clocks. Each driver has a 14-hour on-duty clock and an 11-hour driving clock, and each driver is required to take a 30-minute break during their shift. Each driver also is limited to 60 hours in seven days or 70 hours in eight days, just like solo drivers.
Most teams run set shifts that vary. Philip Keith says he and his wife, Eva, have tried many schedules during the 20-plus years they've been team driving. They settled on 12 hours on-duty for each of them.
"We usually run the clock from 4 a.m. to 4 p.m. and 4 p.m. to 4 a.m.," Philip says. "That's been the most flexible for us. I usually get us unloaded, reloaded and headed in the right direction, and she takes over at night and gets us there."
The Drews run more of a "super solo" shift where each of them will drive for six to eight hours and stop for the night. They typically haul reefer freight that could be handled by a solo driver, but they are able to do twice as many runs in a week.
The Drews, who have been driving team for three years, began as a "true team," Chante says, with each of them using their full clock. That meant seeing each other only for the two hours the non-driver was allowed to sit in the front seat before the mandated eight consecutive hours in the sleeper berth.
"I had the night shift, and he drove during the day, but we started to miss each other," Chante says. "We saw each other less being in the truck together than we did before I started driving with him. Now, we found that if someone's having a bad day and can't drive as much, the other can pick up the slack. We get to eat dinner together and get off the truck for a little while. That's important to us."
Covenant company team drivers Glenn and Lisa Bowers tend to drive for 10 hours or a little more each shift and switch off. Sometimes, if they're running tight on a deadline, they will run out their driving clock.
"At 10 hours, you haven't done a full 14-hour day or an 11-hour drive clock, and your partner is getting a good 10 hours of downtime," Glenn says.
As with solo drivers, a team driver has to use the off-duty shift not just to get some sleep but also to eat, take care of personal hygiene and relax. Philip Keith says he often watches a movie during his 12 hours off-duty. He says their 2017 Peterbilt 579 has plenty of room to allow the off-duty driver in the sleeper to not be disturbed by the driver.
"You have to be able to sleep behind somebody driving and trust that they're going to get you safely where you're going," Philip says.
Lisa Bowers had been driving solo for about a year before Glenn decided to get his commercial driver's license and join her. "I had to take him at his word that he was trained," Lisa says. "I didn't truly know his skill level. I was sitting in the passenger seat while he's driving, and I'm nervous that first month."
Most teams run for weeks at a time. The Keiths try to stay out for 21 to 24 days, running at least 6,000 miles a week, and spend seven to 10 days at home. Chante and Chris Drew tend to stay out two weeks, then spend about three days at home. For Glenn and Lisa Bowers, it's usually four or five weeks out, then four or five days at home.
The stress of living together in a 'small closet'
When two people are in a confined space for weeks at a time, conflict is bound to arise, whether it's a small squabble over routing or a deeper, more personal issue.
Chante Drew says her relationship with Chris has strengthened over the three years they've driven together, but that has come with learning how to read each other's body language and knowing when to talk.
"Even if you aren't married and are just friends or whatever, you have to have communication," Chante says. "When we first started, we had no time apart, and it got to the point where we needed time apart. Now, just getting out of the truck with the dogs to get a few minutes alone is a huge help."
Glenn and Lisa Bowers, who have been driving together for about two years, also say making time for yourself is critical. That can be as simple as getting in the bunk to read or spend time on the computer or a cell phone. It also can be a good way to help defuse a heated situation.
"You've been married and have been around someone for 10 or 11 years, then you're put into a truck the size of a large closet and you live there now four to five weeks at a time," Lisa says. "We've learned which buttons not to push. When I'm driving, I'm more vocal. I'll talk to myself going down the road to talk things out. We also have a mascot in our truck – a stuffed moose named Bruce. Bruce is our mediator."
"If we've had a disagreement, I'll say 'Bruce, what do you think?' and we'll laugh it off and forget what we were arguing about," Glenn adds.
Which is not to say that every couple can enjoy team driving as long as they practice conflict resolution. "If a husband-wife team bickers a lot and can't get along at home, it's probably not a good idea to put them in the same truck," Lisa says.
Even with expectations of conflict, many drivers find teaming preferable to solo driving – and not just for financial reasons.
"I have made trips without her, but I don't care to," says Philip Keith of Eva. "We're so used to doing it as a team, and it's hard for a single driver, especially with ELDs. I consider my wife like American Express – I don't like leaving home without her."
Philip says they make sure to be considerate and thoughtful of each other and to be careful about what they say to each other. "It's a lot of give and take," he says.