For the second year running, brokerage C.H. Robinson has recognized some among its North American truckload contract carriers with the presentation of its Carrier of the Year Awards. The program expanded to include seven contract carriers this year, all of whom are a part of C.H. Robinson's Carrier Advantage Program, which gives a select group of high-volume, high-service carriers first access to freight, among other perks. All the awarded carriers were nominated by their carrier representatives within the company.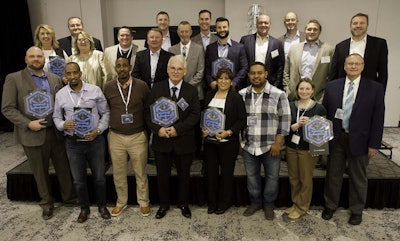 Award winners, have displayed the highest level of service, embraced technology and have established quality relationships with C.H. Robinson. C.H. Robinson recognizes the following award-winning carriers:
Owner-operator: Agristar LLC, Cassadaga, N.Y.
2-10 trucks: Jose Manuel Amaya Araniva, Bloomington, Calif.
11-50 trucks: Skymile Logistics Inc., Stone Mountain, Ga.
51-100 trucks: Pope Trucking Inc., Pearson, Ga.
101-300 trucks: A.N. Webber Inc., Chebanse, Ill.
300-999 trucks: Cargo Transporters Inc., Claremont, N.C.
1,000+ trucks: Melton Truck Lines Inc., Tulsa, Okla.
The Carrier Advantage Program supports 73,000 contract carriers and in addition to early freight access offers contract carriers a dedicated carrier representative, discounts with the QuickPay program, contractual freight opportunities and the ability to submit offers via Navisphere Carrier, C.H. Robinson's technology platform.