The C.H. Robinson freight middleman has been at work fitting user portals' technology to a broader strategy shift that "goes back a number of years," says company President for North American Surface Transportation Bob Biesterfeld. Biesterfeld outlined some of the changes carriers of all sizes doing business with C.H. Robinson are seeing now in this late April blog post.
When I got on the phone with him a couple days ago, he noted that the origin of changes, in effect streamlining carriers' access to the Robinson freight universe and bringing the domestic freight program into the company's global "Navisphere" branding, goes back four years. Biesterfeld and others at the company "sat down and saw the landscape was changing for 3PLs and truckers. We wanted to add value for our [shipper] customers and also back to the carriers." Part of that included an internal aspiration to recognized by the carriers contracting with C.H. Robinson on freight movements as "their 3PL of choice," he adds.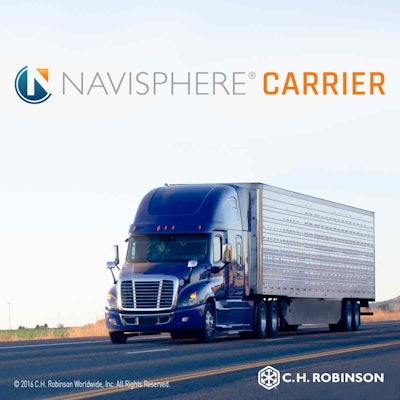 Conversely, the company wanted to be able to deliver the "same level of recognition for the carriers," many of them owner-operators, of course. "What we know is that 85 percent of our freight is with carriers with less than 100 pieces of equipment," and that new owner-operators contract with the broker daily. What's valuable in a brokerage service for owner-operators is "a lot different from a lot of the publicly traded companies," Biesterfeld adds.
The company surveyed its carrier partners, and the results showed "carriers wanted ease of use," he says. Keep tech simple. But an important theme also emerged — "that they needed a better way to plan ahead and be consistent, avoiding empty miles and having earlier access to freight" to reduce situations where they're stuck somewhere now worried how to get home.
Carriers also noted a desire for opportunities with their broker partners for "more consistency in volume and rates," and access to freight mattered a lot to small carriers. While "more and more load boards are becoming available," Biesterfeld says, "if you can see a load and you can't get it, it's worthless."
C.H. Robinson has launched its Carrier Advantage program as a response. Carriers who work closely with C.H. Robinson, meeting some volume requirements, and show consistency of on-time performance and excellence in other measures, will "get unbridled [and earlier] access to freight," Biesterfeld says. "Those that don't provide the same level of service — they get access to the freight next."
The various tiers, some based on performance against peer groups of similarly sized carriers, are spelled out on this page at the company's website.
It also opens up a new "avenue to be more automated," Biesterfeld says, encouraging carriers to "provide status updates via the web or mobile apps."
While automation in the company's interactions with its customers isn't moving toward the kind of "uber for trucking" situation so many have envisioned — Biesterfeld calls that a process of "disintermediation," or replacing middlemen with tech — he does note that "technology continues to get more relevant" to the freight transaction and movement process. "How can we use technology to benefit all parties?" he asks, a question some of the recent changes at the company are intended to answer.
The new Navisphere Carrier web portal is live and available, "primarily utilized by dispatchers [and multi-role owners] from the back office," he says. Those utilizing the CHRWTrucks mobile app will see launch of a new mobile app with the Navisphere branding "later in the year."
Varying levels of automation are coming in that area, but Biesterfeld emphasizes the company's "not trying to replace the relationship between our people and the carrier." Describing a new aspect of the web portal, for instance, he notes the case of an owner-operator or dispatcher in advanced load planning mode; can't do that 24/7, as physical offices close or are reduced to skeleton staffs. Built-in new functionality allows for online offers to be delivered and followed up on later.
Otherwise, the new portal "has a completely new look and feel and smarter searching," he says. "If a carrier just went from L.A. to Chicago and they are based in Dallas, smart search will show them loads back to L.A., to Dallas and others that just get them out of Chicago."
Beta testing among a variety of owner-operators is ongoing for the new mobile app. Keep an eye out for it through the next several months.