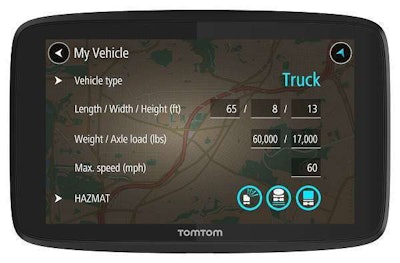 TomTom has unveiled a new GPS device for truck drivers that comes with a Lifetime TomTom Truck Maps subscription, which is updateable over WiFi.
The new TomTom Trucker GPS features tailored routing for truckers with more than 1,500 points-of-interest such as fuel stops and travel centers. The device is also compatible with Siri voice recognition and Google Now, giving users hands-free access to their smartphone.
Drivers can configure the GPS based on their truck's dimensions, weight, cargo and maximum speed. The GPS also updates traffic in real time and can give alerts for imminent backups to prevent sudden braking, the company says.
The new device is available with a six-inch screen for $329.99 and with a five-inch screen for $299.99.