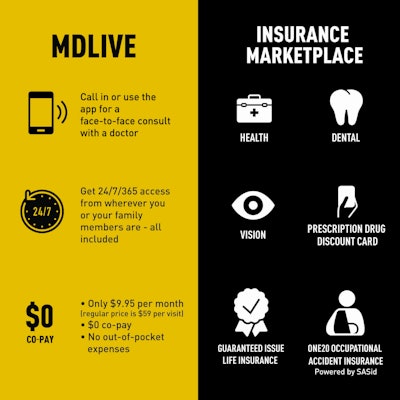 One20 announced a partnership with teladoc service MDLive, as well as a marketplace for health insurance, at the Mid- America Trucking Show in Louisville, Ky. One20 also announced a fuel discount program.
MDLive provides medical consultations with board-certified doctors and licensed therapists via secure online video, and phone around the clock. Drivers who sign up get unlimited doctors' visits by telephone, email, web chat or secure video.
Through the partnership, a $9.95 monthly subscription, there is no waiting period for ONE20 members and the agreement allows for unlimited use for ONE20 members and primary family members. There is no extra costs to add dependents. The program doesn't require a co-pay, deductible or insurance claim. The program also includes a prescription drug card, enabling refills at more than 60,000 pharmacies.
"Professional drivers live, work and play on the road, so health care solutions that don't offer flexibility are a huge hassle and impact a driver's ability to earn an income," says One20 founder and CEO Christian Schenk. "With One20's new MDLive offering, drivers can now access the quality care they need, at prices they can afford, without ever having to disrupt their schedules."
Insurance Marketplace
In addition to virtual health care, One20 members will also be able to purchase health insurance plans through the One20 Insurance Marketplace, which will offer medical, dental, vision, life, prescription drug discount cards and occupational/accidental coverage. One20 members can choose from a variety of different plans – varying by state – with competitive rates, valuable benefits and flexible coverage options.
Fuel card
One20 also announced that it is adding its One20 Fuel Program as a membership benefit, which it says can save members thousands of dollars a year.
Members will have access to discounts as high as 55 cents per gallon at more than 2,000 participating retailers, including large chain and independent truck stops. Discounts will average 20 cents per gallon.
The One20 Fuel Card will have no card fee, no account management fee and low in-network fees.