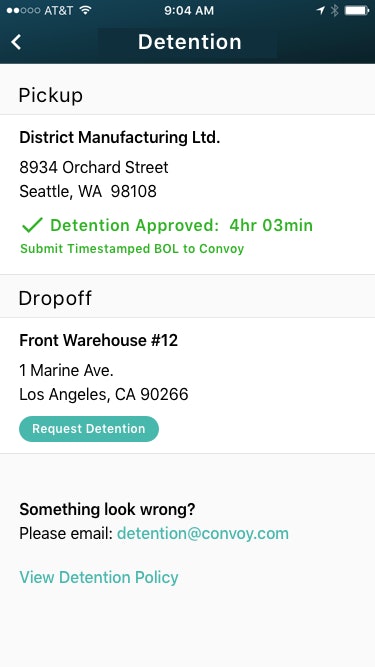 After nearly three years, app-based freight brokerage service Convoy on Tuesday announced it has expanded its network nationwide.
Convoy has grown its footprint from the Puget Sound-area to the greater Pacific Northwest and then west of the Rockies generally. It's now offering loads coast-to-coast with more than 100,000 trucks and drivers on the network.
To coincide with the expansion of the network, Convoy is adding three new features to its platform, each aimed at pairing carriers to shippers while also adding layers of convenience for drivers.
A "Suggested Reload" option shows carriers loads that will be immediately available after dropping off an initial load. When a carrier searches for jobs in the app, Convoy suggests recommended reloads near their drop off location that can be booked instantly, allowing carriers to plan ahead and avoid driving an empty truck.
Kristen Forecki, Convoy's vice president of carrier engagement and expansion, says this feature was designed to allow carriers to fill backhauls, or to pick up other loads along their way to other drop points.
A "Request a Load" feature lets drivers post their availability, along with a preferred city of origin and destination and pickup and drop-off times.
The Convoy platform will notify carriers when a load matching their parameters has been found. Carriers can also set the post to recur automatically if they regularly have availability at a given time and day.
"If you always know on Thursdays you'll be looking for a particular backhaul, you can set a recurring [post] up for that," Forecki says.
For drivers trapped at the dock waiting for their shipper, Convoy is rolling out "Automated Detention." Payable on the first minute of the third hour at a shipper's facility, drivers can simply request detention pay through the press of a button within the Convoy app.
"When drivers have to wait at a facility, we want them to know they are going to be paid for that time," Forecki says.
Convoy's geo-fencing technology verifies that the driver arrived at the facility on time. The shipper has two hours to get the truck loaded and back underway. At the beginning of the third hour, Forecki says Convoy pays a $40 per hour detention rate regardless if shipper reimburses them.
"Drivers feel today like they have to fight for detention and we just wanted to eliminate that completely," she says.
Not only do shippers pay detention when they have wait times at their facilities, but Convoy says their average price to book a truck goes up. For example, Convoy's data suggests that facilities with an average of six hours wait time pay up to 30 percent more to book a truck than a facility with an average of 2 hours wait time.
Convoy also announced a partnership with Goodyear in which active carriers receive an up to 30 percent discount on tires.
Roadside assistance is also offered, free of charge, to carriers hauling a load booked through the Convoy platform.