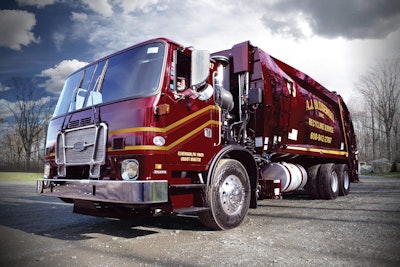 More than 1,300 Autocar Class 8 severe service trucks and approximately 45 Hino tractors are being recalled, according to National Highway Traffic Safety Administration documents.
The Autocar recall affects approximately 1,320 model year 2014-2018 Xpeditor trucks equipped with a factory-installed methane detection system. Autocar says the circuit protection for the methane detector "may be inadequate, and the harness may be improperly routed." If the wiring harness were to carry excessive current, it could overheat, causing a fire.
Autocar will begin notifying owners on April 13, and dealers will replace the 10-amp fuse with a 3-amp fuse for free. Owners can contact Autocar customer service at 1-888-218-3611 or 1-877-973-3486 with recall number ACX-1801. NHTSA's recall number is 18V-165.
Hino Motor Sales USA also announced a recall that affects approximately 45 model year 2018-2019 trucks with engine codes NE8J, NJ8J and NV8J. Affected truck models include the Class 6 268, the Class 6 268 A and the Class 7 338. The engine valve train adjustment screw lock nuts in these trucks may not be properly tightened, possibly causing them to come loose within the engine and damaging it. This could cause the engine to shut off.
Hino will begin notifying owners on April 9, and dealers will inspect the torque on the lock nuts. If a nut is found to be missing, Hino will replace the engine for free. Owners can contact Hino customer service at 1-248-699-9390 with recall number AA9Q0. NHTSA's recall number is 18V-178.