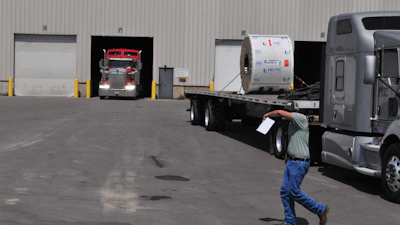 Enforcement of detention pay through blockchain technology is "a huge way it could affect drivers," said Dan Pickett, chief data scientist with FreightWaves, a forum for blockchain technology and other freight analytics tools.
Pickett and Tim Leonard, chief technology officer for TMW Systems, gave a blockchain presentation March 26 at the annual meeting of the Truckload Carriers Association in Kissimmee, Florida. A blockchain system is a continuously growing list of electronic records, called blocks, that in the case of trucking can improve routine processes such as billing, payment and logistics to make them more visible to any involved party.
A blockchain system called a "smart contract" between a shipper and carrier, for example, could utilize GPS and geofencing technology to document a truck's arrival time and exact position at a shipper or receiver for all parties to see, Pickett said. To use such a system for detention pay would require precise language in the contract to address matters such as how close the truck is to the dock and whether the trailer doors are open, he said.
In a broader sense, blockchain promises to protect drivers and carriers in many ways concerning responsibility for damaged, late or fraudulent freight, the presenters said. For example, Leonard said, the industry is working on a "huge fraud situation" involving parties in China removing the labels from expensive bottles of wine and replacing them on cheaper bottles. Systems are being designed now "to make sure the buyer gets the correct wine bottle."
The presenters also used the example of shipping tomatoes to show how extensive blockchain documentation could verify freshness and other qualities. The data collection could begin with the growing process, noting location, temperature, watering, etc. Then it would trace harvesting and shipments, including reefer temperatures and temperatures of the regions shipped through.
Separate data categories, such as insurance and other financial information, also would be part of the chain. In this instance, "There are over 20,000 different attributes in the database," Leonard said. That can be unwieldy to work with, so the information would be grouped in different industry-based blockchain networks, such as agriculture and transportation.
That highlights the problem of establishing industry standards so that all the data meshes well and can be easily input and read by all involved parties, Pickett said.
He predicted three phases for blockchain development in trucking:
2018-2020: Education, case studies and limited early adoption. "Your executives need to be paying attention and learning," Pickett said.
2021-2025: Lots of growth as businesses see blockchain's capability "to outperform legacy systems on certain tasks."
2026 and beyond: Blockchain will be "widely adopted and considered an integral part of the supply chain ecosystem."