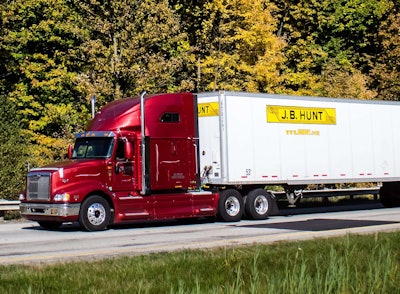 Some of the largest trucking companies in the U.S. saw their revenues and profits surge in the first quarter of 2018 compared to the same period last year. The gains continue the trend seen in the latter half of 2017, when the same publicly traded carriers reported climbing top line and bottom line numbers.
Landstar, one of the country's largest owner-operator carriers, reported more than $1 billion in revenue in the first quarter, up nearly a quarter of a billion from the $780 million reported for the first quarter of 2017. Their income grew to $57.5 million, up from $32.4 million.
Schneider saw revenues climb by $140 million, to $1.14 billion, while their profits more than doubled — $47.6 million, compared to 2017's first quarter income of $22.6 million.
Werner's first quarter revenue grew to $562 million, up from the $501 million reported last year, and their income climbed to $27.8 million, from $16 million.
J.B. Hunt's revenue surged more than $300 million in the quarter, to $1.94 billion, from 2017's first quarter revenue of $1.63 billion. Their profits grew nearly $16 million, to $118 million.
The newly formed Knight-Swift Transportation Holdings, the company created via the merger of Knight and Swift, reported $1.27 billion in revenue and a $70 million profit.
To see earnings report information for other publicly traded trucking companies, see Overdrive sister site CCJ's report at this link.