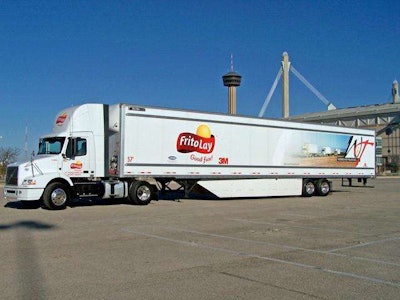 A San Francisco federal court has approved a $6.5 million settlement against Frito-Lay Inc. that will result in 254 drivers receiving an average of $18,377 for unpaid wages and breaks.
U.S. Magistrate Jacqueline Scott Corley granted final approval May 4 in the Fair Labor Standards Act case. It was brought as both a collective action, requiring absent parties to opt in to be party to the lawsuit, and a class action, where they automatically are a class member unless they opt out.
The case is a high-profile example of court-ordered payouts stemming from a 2014 9th Circuit Court of Appeals decision that ruled carriers must provide California-required meal breaks and paid rest breaks for drivers. Lawmakers in Congress are trying to stop such court-ordered payouts related to the 9th Circuit decision via a provision exempting carriers from such state-mandated breaks.
The Texas-based company did not immediately respond to a request for comment. Parent company PepsiCo Inc. and its private fleet, FL Transportation Inc. were also named as defendants in the three-year-old case.
The drivers were paid on mileage and in some cases, at predetermined rates. Corley stated that plaintiffs were not compensated for time spent waiting for loads and for duties such as inspecting equipment and fueling. "Defendants have a systematic business policy and practice of scheduling plaintiffs to work more than five hours per day without the provision of an off-duty 30-minute meal period and more than three and a half hours per day without a 10-minute rest period," she wrote.
Four named plaintiffs will receive additional compensation for their time and effort that benefited the class. Two still employed by Frito-Lay and the lead plaintiff will receive an additional $15,000 each and the fourth an extra $10,000. The court also approved $1.63 million in attorneys' fees, $37,457 in litigation costs and $11,386 to the settlement administrator.