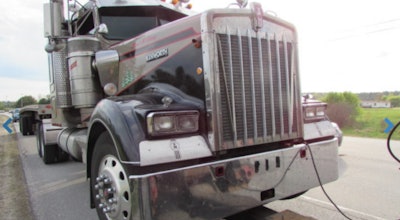 An owner-operator has been arrested by Maine State Police after racking up more than $1,300 in unpaid tolls in the state over the course of the last six years.
According to an Instagram post by MSP, Danny Olson, the owner of Olson Transportation out of Turner, Maine, had been traveling on the Maine Turnpike over the last six years between Augusta and Kittery without paying tolls. The post alleges Olson had been illegally attaching license plates not belonging to him to his truck and trailer. The agency says he is suspected of accumulating "thousands more in unpaid tolls" in other states.
When police stopped Olson entering Maine from New Hampshire, he was found in possession of illegal registration plates. According to MSP, Olson had been driving as an owner-operator for K&E Transportation Associates out of West Newfield, Maine. The Federal Motor Carrier Safety Administration's Safety Measurement System shows the fleet to have 26 trucks and 26 drivers.
Olson has been charged with theft of services, along with keeping a false log book, failing to retain previous log books, illegal attachment of registration plates, unauthorized taking of registration plates, and failing or neglecting to pay tolls. MSP says Olson had not taken proper rest breaks in the five days leading up to his arrest.
Police say other states will be contacted regarding Olson's toll evasion, and federal prosecution will be considered.