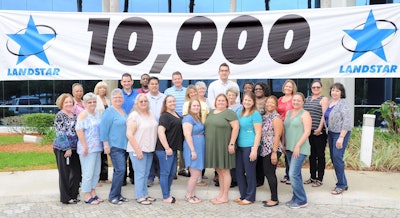 As pictured above, Landstar employees commemorated a company milestone this past Monday, May 14 – reaching the number of 10,000 trucks provided by Landstar-leased owner-operators within its network.
Landstar System operates one of the largest owner-operator fleets in the country.
"In this current market of heightened competition for the best owner-operators in the business, it is quite an achievement for Landstar to hit the 10,000 trucks mark," said Rocco Davanzo, company executive vice president of capacity development.
In making the announcement, Landstar President and CEO Jim Gattoni congratulated "everyone in the Landstar family – all of the owner-operators leased to Landstar, our network of independent agents and dedicated Landstar employees. Each of you had a hand in making this tremendous milestone possible."