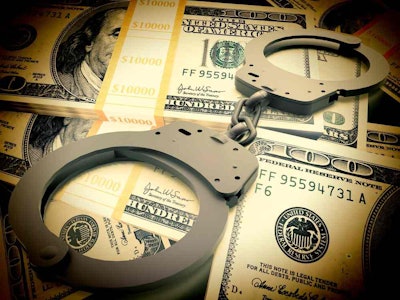 Action in three trucking-related crimes has recently been reported by the Department of Transportation's Office of Inspector General and the Department of Justice, including a drug testing scheme, a CDL testing scheme and a hazmat explosion.
Montana trucking company, owner found guilty after 2012 hazmat explosion
Woody's Trucking and Donald E. Wood Jr., were found guilty on May 22 of conspiracy, wire fraud, mail fraud, placarding violations and obstruction of justice stemming from an explosion at an oil and gas processing facility in Wibaux, Montana, in 2012.
On Dec. 29, 2012, a driver for Woody's Trucking loaded natural gas condensate, or "drip gas," from a pipeline station with a bill of lading that identified the product as "slop oil and water," a non-hazardous substance. However, while the driver was pumping from the truck's front tank, a fire ignited, injuring three employees at Custom Carbon Processing.
The tanks on the truck burned for eight days before the local fire department could determine it was drip gas and not slop oil and water that was burning.
According to the U.S. Attorney's Office District of Montana, witnesses testified that Wood directed the driver to place a falsified bill of lading in the burned-out truck several days after the explosion in order to cover up the fact that the company was hauling drip gas without placards. The company also had no insurance coverage for hauling drip gas.
Woody's Trucking was later sued by CCP and submitted the lawsuit to their insurance company for payment of costs, attorney fees and payment of the eventual settlements. The insurance company agreed to pay the claims, but maintained there was no insurance to cover hauling drip gas.
"Mislabeling and submitting false documents to conceal the presence of explosive material on public highways are serious criminal matters that will be prosecuted to the fullest extent of the law," said U.S. Attorney Kurt Alme. "As this case demonstrates, the failure to properly disclose and label hazardous materials can endanger lives."
A sentencing is scheduled for October. Wood faces a maximum of 145 years in prison and fines totaling $3.5 million.
Washington woman sentenced in drug testing scheme
Christine Clark, owner of Premium Drug Screening in Shelton, Wash., was sentenced April 23 to three years of probation, a $100 assessment fee and 100 hours of community service for her role in defrauding companies that hired her to administer DOT drug testing programs.
According to OIG, Clark was supposed to collect urine specimens from employees and ship them to certified labs for testing. Instead, she fabricated DOT drug test reports to make it look like the urine had been tested by a certified lab. Between 2009 and 2015, only 94 of the 592 samples she collected were tested by labs. Trucking companies used the fabricated reports to satisfy DOT's drug testing requirements.
Clark will be monitored with an active GPS and restricted to her residence for 270 days.
New York trucker pleads guilty to CDL testing fraud scheme in Florida, N.Y.
Queens, N.Y.-based trucker Aziz Akhrorov pleaded guilty May 10 to conspiring to unlawfully produce CDLs.
According to OIG, between April 2014 and December 2016, Akhrorov and Taras Chabanovych, a co-conspirator in Florida, caused fraudulent Florida CDLs and photo IDs to be issued to New York-based applicants, who later exchanged the fraudulent licenses for CDLs from New York.
OIG states Akhrorov recruited New York-based CDL applicants, usually of Russian descent, and referred them to Cabanovych. He was reportedly paid as much as $2,600 per referral.