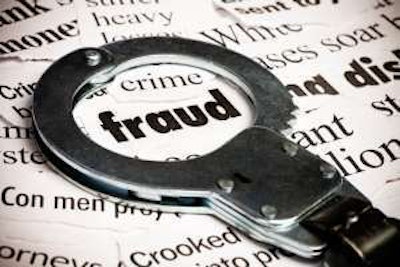 Action in three trucking-related crimes has recently been reported by the Department of Transportation's Office of Inspector General. All three cases deal with DOT drug testing or medical exam fraud.
Georgia doctor convicted for falsifying DOT medical exams
A Georgia medical doctor who was authorized to perform DOT medical exams has been convicted of conspiracy to falsify records with intent to impede the proper administration of the Federal Motor Carrier Safety Administration.
Dr. Mark Griffis was indicted in February after an investigation revealed he "routinely signed DOT Medical Examiner's Certificates and Medical Examiner Reports for CDL holders without examining the drivers," according to OIG.
Griffis is now awaiting sentencing.
Alabama chiropractor pleads guilty to falsifying DOT medical exams
Dr. Kenneth Edwards pleaded guilty on June 13 to one count of conspiracy to commit wire fraud after he was charged with submitting falsified DOT medical exams to FMCSA's National Registry.
Through his practice in Phenix City, Ala., Edwards allegedly conspired with his employees, Joann Bush and Andrea Daigle, to charge drivers for medical exams performed by Bush and Daigle, even though they were authorized to perform DOT medical exams.
The results of these exams were uploaded to FMCSA, certifying the Edwards himself performed the exams.
California drug tester gets prison time for drug testing scheme
Demetri Dearth, the former owner and operator of Advanced Substance Abuse Programs in Redding, Calif., was sentenced to one year in prison, followed by one year of probation and a $2,500 special assessment fee after pleading guilty to mail fraud and false statements to a government agency.
An investigation revealed that between March 2009 and February 2010, Dearth's company collected urine specimens from commercial drivers but didn't forward many of the specimens to certified labs for testing.
Instead, the company created false Custody and Control Forms stating the urine had been released to FedEx for transfer to a lab. In reality, the specimens never left Dearth's lab, and she falsified reports indicating that a Medical Review Officer (MRO) had reviewed the results of tests that never took place.
These false reports named legitimate MROs, provided their addresses and presented forged MRO signatures.