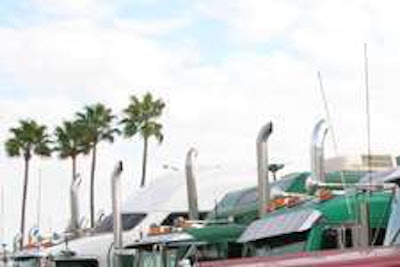 Action in three trucking-related crimes has recently been reported by the Department of Transportation's Office of Inspector General and the Department of Justice, including violations of the Clean Air Act, falsifying medical certificates and drug test reports and moving company scams.
Two more plead guilty after disabling emissions control devices
Two more men pleaded guilty in July to charges related to disabling emissions control devices in a trucking company's hydraulic fracturing trucks. Specifically, they allegedly removed the trucks' stock exhaust systems and replaced them with straight pipes or hollowed out the emissions exhaust components by removing environmental filters.
OIG alleges the men also disabled and manipulated the trucks' onboard diagnostics with "defeat" devices. They also concealed the purchases in the company's books and records by mislabeling them as "exhaust systems," OIG says.
Joseph Powell and John Joseph, employees of Pennsylvania-based Rockwater Northeast, pleaded guilty July 19 to conspiring to defraud the United States and violate the Clean Air Act. Three others involved in the case, Gavin Rexer, Dennis Paulhamus and Timothy Sweitzer, pleaded guilty in June to the same charges.
Pennsylvania woman sentenced for fraudulent med certs
Joann Wingate, a former chiropractor in Pennsylvania, was sentenced July 18 to two years of probation, including six months of electronic-monitoring home detention, and a $300 assessment fee after pleading guilty last November to wire fraud and false statement charges.
Wingate, according to OIG, falsified Federal Motor Carrier Safety Administration-regulated medical examiner's certificates and drug testing chain of custody forms; forged documents by using the identity of an unknowing licensed physician; falsified other documents by claiming to be a medical review officer; and continued to perform FMCSA-regulated medical exams for CDL holders, in exchange for payment, after having her chiropractic license suspended in 2013.
She admitted to unlawfully performing DOT medical exams; placing the name, license number and signature of an unknowing doctor on medical examiner's certificates; and electronically submitted the forged certificates to state DOTs. She also admitted to contracting with a trucking company to perform its DOT drug testing requirements, even though she wasn't a qualified medical review officer.
Twelve charged in moving company scams
A federal grand jury in Cincinnati has charged 12 people with conspiring in a racketeering enterprise to defraud people through their moving companies located throughout the U.S., including in Florida, Ohio, Maryland, North Carolina, Illinois, Texas, California, Connecticut, Colorado and Missouri. According to the U.S. Attorney's Office in the Southern District of Ohio, more than 900 customers were identified as victims of the scheme so far.
According to the indictment, those charged operated and worked through a number of moving companies, including: First National Moving and Storage, Flagship Van Lines, Independent Van Lines, JBR Underground, National Relocation Van Lines, National Relocation Solutions, Presidential Moving Services, Public Moving and Storage, Public Moving Services, Smart Relocation Solutions, Trident Auto Shipping, Unified Van Lines, United National Moving and Storage and US Relocation Systems.
The scheme allegedly took place between April 2013 and July 2018. To execute the alleged scheme, they allegedly lied to customers about how long the moving companies had been in business, claiming many years of experience despite being created just a few months before. They also allegedly created fake online reviews.
When contacted by potential customers, they would allegedly provide customers with low binding estimates to do their move, and after being hired, would load the goods on the truck and bump the price of the move. Federal regulations prevent carriers from raising the price of the move after loading customers' items. At this point, the moving companies would allegedly refuse to give back the household goods until paid the higher price.
Five of the 12 charged were arrested Tuesday, including: Andrey Shuklin, 31, Miami, Florida; Phyllis Ricci Quincoces, 51, Hollywood, Florida; Vladimir Pestereanu, 28, Sunny Isles Beach, Florida; Roman Iakovlev, 31, Charlotte, North Carolina; and Jessica Martin, 28, Tamarac, Florida.