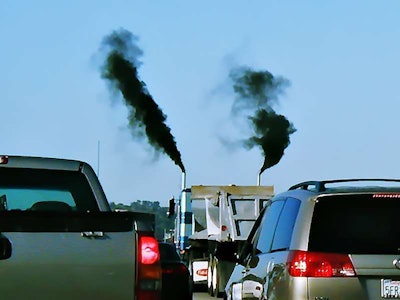 Action in three trucking-related crimes has recently been reported by the Department of Transportation's Office of Inspector General including accounting and securities fraud, a CDL testing scheme and violations of the Clean Air Act.
Three plead guilty to disabling emissions control devices
Three of the five Pennsylvania men who were charged in May for disabling emissions control devices on trucks have pleaded guilty to conspiring to defraud the United States and violate the Clean Air Act.
Gavin Rexer, Dennis Paulhamus and Timothy Sweitzer each pleaded guilty to charges related to a scheme to defraud the U.S. Environmental Protection Agency and the Federal Motor Carrier Safety Administration.
According to OIG, the men "conspired to illicitly disable the Rockwater Northeast CMVs' emissions control devices." OIG adds that the accused removed the stock exhaust systems and replaced them with straight pipes or hollowed out the emissions exhaust components by removing environmental filters and elements.
Additionally, the men allegedly disabled and manipulated the trucks' onboard diagnostics with high-tech "defeat" devices obtained from Paulhamus and Sweitzer, then concealed the purchases in Rockwater's books and records by mislabeling them as "exhaust systems." OIG says the men also indicated that the illegally modified trucks had passed inspections at Sweitzer's Garage, which is an inspection station certified by the Pennsylvania DOT.
Third-party CDL examiner sentenced for role in CDL skills test scheme
Andre Cooper, a third-party CDL examiner in Mississippi, was sentenced June 21 to three years of probation, a $1,500 fine and $100 special assessment fee for making false statements. He pleaded guilty in April.
According to OIG, Cooper accepted cash payments from multiple CDL skills test applicants in lieu of administering the CDL skills test. He then falsely certified these applicants had passed the test.
OIG's investigation found that for three years, Cooper provided approximately 75 CDL applicants with passing scores for between $200 and $300 per test. The Mississippi Department of Public Safety revoked these CDLs.
Former fleet execs charged with accounting and securities fraud
Two former executives at Roadrunner Transportation Systems, Mark R. Wogsland and Bret S. Naggs, have been indicted on charges of conspiracy, securities fraud and wire fraud. Naggs is a former controller for the company, while Wogsland is a former controller and director of accounting for the company's operating segment.
According to the indictment, between 2014 and 2017, Naggs, Wogsland and their co-conspirators "schemed to mislead Roadrunner's shareholders, independent auditors, regulators and the investing public about the company's true financial condition."
OIG says the co-conspirators identified at least $7 million in overstated accounts on the balance sheet of one of Roadrunner's largest companies, Roadrunner Intermodal Services. Instead of addressing the problem, OIG says the misstated accounts were purposefully left on the books to fraudulently boost the company's financial performance.
Additionally, the indictment alleges that nearly all of the misstated accounts remained on the balance sheet until early 2017, when Roadrunner announced it would restate its previously-reported financial results.