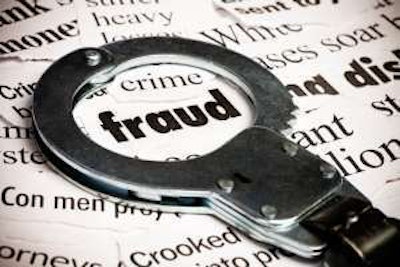 Action in four trucking-related crimes has recently been reported by the Department of Transportation's Office of Inspector General including a violation of the Clean Air Act, hazmat violations, household goods moving fraud and medical exam fraud.
Five Pennsylvania men charged after disabling emissions control devices
A trucking company owner, a repair shop owner and three other individuals were charged May 25 with conspiring to defraud the United States and violate the Clean Air Act.
Dennis Paulhamus, owner of two-truck DJ Paulhamus Trucking; Timothy Sweitzer, owner of Sweitzer's Garage; and Gavin Rexer, Joseph Powell and John Powell, employees of 77-truck water and wastewater transportation company Rockwater Northeast were each charged, according to OIG.
The report states all five men "conspired to illicitly disable the Rockwater CMVs' emissions control devices." OIG adds that the accused removed the stock exhaust systems and replaced them with straight pipes or hollowed out the emissions exhaust components by removing environmental filters and elements.
Additionally, the men allegedly disabled and manipulated the trucks' onboard diagnostics with high-tech "defeat" devices obtained from Paulhamus and Sweitzer, then concealed the purchases in Rockwater's books and records by mislabeling them as "exhaust systems." OIG says the men also indicated that the illegally modified trucks had passed inspections at Sweitzer's Garage, which is an inspection station certified by the Pennsylvania DOT.
California shipping company owner sentenced for hazmat violations
Peiwen Zhou, owner of AK Scientific in Union City, Calif., was sentenced to five years of probation, a $40,000 fine and 200 hours of community service after pleading guilty to illegally transporting hazardous materials and failing to properly declare imports of toxic substances.
According to OIG, Zhou admitted to failing to adequately train employees about hazmat requirements, which resulted in the company shipping hazardous materials without being properly labeled.
New Jersey HHG mover pleads guilty to fraud
Maximo Beras of Kearny, N.J., has been charged with two counts of conspiracy to commit wire fraud and pleaded guilty for his role in a scheme to obtain money from customers of various moving companies under false pretenses.
According to OIG, an investigation beginning in September 2012 revealed that Beras and his co-conspirators would provide low-cost estimates for moving services, then hold the household goods hostage until the customers agreed to pay "exorbitant fees."
OIG adds that Beras and others set up chameleon companies that appeared to be legitimate moving companies, and once customers complained, the company was shut down and transformed to a new one.
DOT-approved medical examiner pleads guilty to fraud scheme
Georgia-based doctor John A. Glenn Jr. pleaded guilty May 29 to one count of conspiracy to falsify records with intent to impede proper administration of DOT for his role in a medical exam fraud scheme.
According to OIG, Glenn "routinely" signed Medical Examiner's Certificates and Medical Examination Reports for CDL holders without actually examining the drivers.