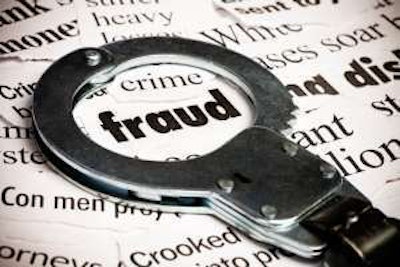 Action in four trucking-related crimes has recently been reported by the Department of Transportation's Office of Inspector General and the Twin Cities Pioneer Press, including drug testing fraud, illegal transport of hazardous materials, a driver imprisoned following a fatal crash and a former DOT employee sentenced for bank fraud.
A Minnesota-based owner-operator who had previously been effectively shut down by the Federal Motor Carrier Safety Administration was sentenced to three years in prison for his role in a fatal crash in October 2015.
John Ray Carpenter, of Hibbing, Minn., was shut down for being "medically unqualified to operate a commercial motor vehicle," according to FMCSA in 2015.
The Twin Cities Pioneer Press reports Carpenter crashed when he blacked out, crossed the center line and hit an oncoming motorist, who was killed. The paper reports Carpenter had a documented history of sleep apnea. FMCSA said in 2015 Carpenter had at least six other medical episodes in which he dozed off or blacked out.
Donald Woody, the owner and operator of Woody's Trucking out of Baker, Mont., was indicted for violations related to the illegal transportation of hazardous materials, obstruction and insurance fraud.
The DOT OIG reports a driver for Woody's Trucking loaded natural gas condensate from a pipeline station with a bill of lading that listed a non-hazardous material. While the driver was pumping the gas from the tanker, a fire ignited, injuring three people.
The tanks on the truck reportedly burned for eight days before a fire department determined the substance was drip gas, not slop oil and water, as indicated on the bill of lading. OIG adds the truck was not placarded to indicate it held a flammable liquid.
David L. Biersmith and his business, Industrial Medical Center were debarred from working with the federal government for 5 years in January by FMCSA for issuing fraudulent medical certificates.
Biersmith and is company, based in Independence, Mo., provided medical services to commercial drivers, including drug tests and physical exams, but he did not have a medical license or other medical credentials. According to OIG, he signed the name of a legitimate chiropractor without permission on medical exam reports and certificates for at least 65 truckers.
Darryl Williams, a former FMCSA and Federal Railroad Administration employee, was sentenced recently for bank fraud charges.
Williams received one day of incarceration and five years of supervised release, including two years of home confinement. He must also complete 400 hours of community service.
OIG reports that between November 2010 and October 2016, Williams allegedly attempted to obtain money, loans and lines of credit from Envision Credit Union by lying about his employment status, employer, job title, length of employment and salary. He also allegedly falsified or forged his DOT leave and earnings statements.