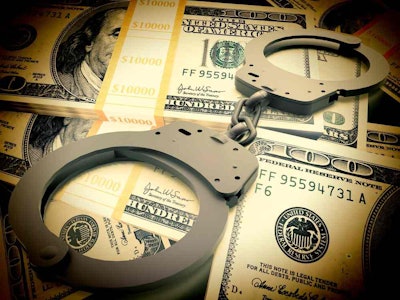 Action in five trucking-related crimes has recently been reported by the Department of Transportation's Office of Inspector General and the U.S. Attorney's Office for the Southern District of Mississippi, including drug testing fraud, CDL testing schemes, a carrier operating without authority and DOT inspection bribes.
An Ohio-based trucking company was ordered to pay a criminal fine of $525,000, forfeit $215,012.55 and serve three years of probation after not reporting large cash transactions to the IRS and conspiring with at least five other carriers to reincarnate operations to avoid out-of-service orders issued by the Federal Motor Carrier Safety Administration.
Enson Trading LLC, doing business as Eternal Food Service (EFS) allegedly received $12,173.54 in cash from a customer without filing with the IRS, according to the OIG. Additionally, between June 2010 and July 2014, OIG says EFS conspired to get new carrier registrations and reincarnate.
A Texas fleet owner pleaded guilty on Jan. 2 for paying Texas Department of Public Safety officers for clean inspections. Cruz has yet to be sentenced after his plea.
Orlinte Cruz, owner of 30-truck fleet Cruz and Sons Transportation, allegedly paid a DPS trooper $4,000 in exchange for favorable Level I safety inspections between July 2014 and September 2015. According to OIG, the trooper submitted 39 false truck inspections to the FMCSA database.
A Washington state-based drug tester pleaded guilty to defrauding companies that hired her to administer DOT drug testing programs.
Christine Clark, owner of Premium Drug Screening in Shelton, Wash., was supposed to collet urine specimens from employees and send them to certified labs for testing, according to OIG. Instead, she allegedly fabricated DOT drug test reports to make it look like the urine specimens had been tested.
Between 2009 and 2015, only 94 of the 592 samples collected by Clark were tested by labs. Fleets that contracted with Clark used her fabricated results to meet DOT drug testing requirements.
Donald Freeman, a California DMV employee, and Juan Arroyo Gomez pleaded guilty Dec. 14 to charges related to their roles in a CDL testing scheme.
According to OIG, between July 2016 and May 2017, Freeman allegedly was paid to access and alter DMV database records to fraudulently indicate applicants had passed written CDL exams when they had not. Gomez allegedly paid Freeman for the fraudulent CDLs.
A former Mississippi CDL trainer recently pleaded guilty to aggravated identity theft for his role in providing fraudulent paperwork to CDL applicants in exchange for money.
Derrious Emadrick Dillon, of McComb, Miss., was fired from a company that provided CDL training and certification, but continued providing paperwork to CDL applicants after his termination. According to a report from the District Attorney's office, Dillon obtained a list of authorized CDL instructors and ID numbers in Mississippi. He used these names and ID numbers to create false paperwork stating CDL applicants had passed the written test, when they had never taken the tests.
The report states Dillon received $200-$400 for each set of fraudulent paperwork. Dillon faces a maximum penalty of two years in prison and a $250,000 fine.