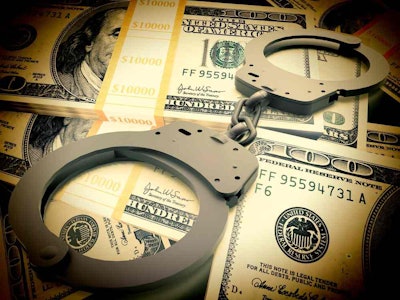 Action in four trucking-related crimes has recently been reported by the Department of Transportation's Office of Inspector General, including two CDL schemes, an inspection bribery scheme and a drug testing scheme.
A California DMV employee, Aaron Gilliam, pleaded guilty to conspiracy to commit bribery, identity theft and unauthorized access of a computer for altering records to show CDL applicants had passed written CDL tests when they had not.
Between April 2016 and July 2017, Gilliam and co-conspirators reportedly entered passing scores for written CDL tests, OIG reports. He was responsible for the issuance of at least 57 fraudulent licenses.
Ten other California DMV employees and trucking school owners and employees were also recently charged, with two more pleading guilty, on charges related to a conspiracy to produce or obtain fraudulent CDLs.
Donald Freeman, Jr., Juan Arturo Arroyo Gomez, and Shawana Denise Harris; Jagpal Singh, Jagdish Singh, Tajinder Singh, and Parminder Singh; Ruvila Lima and Poya Khanjan; and Rahim Mahboob were all charged in the scheme, while co-conspirators Lisa Terraciana and Kari Scattaglia pleaded guilty.
Freeman, Gomez, Harris, Terraciano, and Scattaglia were California DMV employees. Between July 2016 and May 2017, Gomez allegedly paid Freeman to access and alter DMV records to fraudulently show passing scores for potential truckers who had not taken the written test.
Additionally, between September 2014 and June 2017, Jagpal Singh, owner of Calcutta Truck School, and Parminder Singh, a school employee; Jagdish Singh, owner of Gobind Truck School, and Tajinder Singh, a trucking company owner in Southern California, bribed DMV employees to change the records. Jagdish and Tajinder Singh reportedly conspired with and bribed Harris to obtain commercial permits for applicants. Parminder Singh also reportedly received a fraudulent CDL.
Between September 2015 and June 2017, Mahboob allegedly paid Terraciano to change DMV records to show CDL applicants had passed written CDL exams.
Finally, between July 2016 and June 2017, Lima and Khanjan solicited payments from students and others to avoid taking the written CDL exam. They then reportedly conspired with Gomez and Freeman to obtain the commercial driving permits for those who had not taken the written exam.
A Texas trucking company owner was charged for his role in bribing state troopers in exchange for favorable safety inspections.
Orlinte Cruz, owner of 30-truck fleet Cruz and Sons Transportation and UGMA Logistics in Dallas, allegedly paid a Texas Department of Public Safety trooper $4,000 to receive favorable Level I inspections.
The trooper reportedly submitted 39 false truck inspection reports to FMCSA for the fleet.
The owner of a Washington state-based drug testing company was recently charged for her role in a scheme to defraud companies that hired her to administer their DOT drug testing programs.
Christine Clark, owner of Premium Drug Screening in Shelton, Wash., was supposed to collect urine specimens from employees and ship them to certified labs for testing. Instead, Clark allegedly fabricated DOT drug test reports to make it look like the specimens had been tested.
Between 2009 and 2015, OIG reports only 94 of the 592 samples collected by Clark were tested by labs.