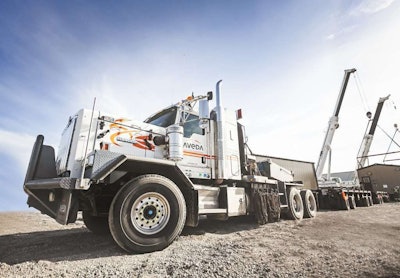 Daseke, a large holding company for flatbed and specialized fleets, announced Thursday it has acquired the 300-truck Aveda Transportation and Energy Services, a Texas-based fleet that hauls large oil rigs and worksite equipment. Daseke says it bought the company for 70 cents a share — approximately $42.6 million. It also paid off $54.8 million in Aveda debt.
In its announcement of the acquisition, Daseke said Aveda is one of the largest providers of specialized transportation services and equipment required for the exploration, development and production of petroleum resources in the United States and Canada.
"Aveda outsources up to 35 percent of its long-distance rig movers to other carriers, and we have the equipment to capture some of this revenue through our various operating companies," said Don Daseke, chairman and CEO. "In addition to cross-selling, we have also identified other benefits of scale in the way of purchasing, fuel and insurance."
Daseke (No. 37 in the CCJ Top 250) owns a number of large flatbed and specialized fleets in North America, including Boyd Bros., Hornady Transportation, Central Oregon Truck Company, Bulldog Hiway Express, Smokey Point Distribution and E.W. Wylie, among others.
Aveda is the sixth fleet Daseke has acquired in the past 13 months. Daseke also became a publicly traded company last year.