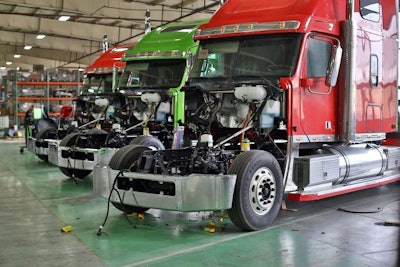 Lawmakers from the U.S. House have sent letters to the U.S. Environmental Protection Agency requesting that the agency's Inspector General investigate potential improper contacts between EPA staffers and Volvo Trucks regarding research into glider kit truck emissions.
The letters are the latest development in the ongoing debate over whether the EPA should strip Obama-era emissions regulations placed on glider kit trucks, which opponents argued threatened to kill the glider kit industry.
In one letter, Rep. Greg Gianforte (R-Montana) says that EPA career employees were in email communication with Volvo employees to arrange a study to test the emissions of glider kits "without the knowledge or approval of EPA leadership." Volvo supplied glider kits to EPA staffers for the test, which Gianforte argues makes the study's conclusions questionable, given Volvo's active opposition of repealing glider kit emissions regulations. Another letter asking for an investigation was filed by four other House Republicans: Reps. Bill Posey (Florida), James Comer (Kentucky), Steve King (Iowa) and Brian Babin (Texas). The latter four are members of the House's Oversight Committee.
Volvo says its work to lobby in favor of regulating emissions of glider kit trucks is standard practice and posed no ethical or legal issues. "Like most of the trucking industry, the Volvo Group for several years now has argued that the improper use of glider kits is bad for the environment and unfair to manufacturers who have invested in the latest environmental controls. All our communication and cooperation with the EPA on this issue has been an entirely appropriate part of a broad trucking industry advocacy effort – we did nothing improper," Volvo said in a statement to Overdrive.
In addition to Volvo (which owns Mack), Cummins and Daimler also lobbied against the repeal of the glider emissions restrictions. Volvo does not offer truck bodies for use as gliders. Most gliders are Paccar brands — Peterbilt or Kenworth — or Daimler vehicles, Freightliner and Western Star.
The study by EPA found that glider kits produce greater emissions of greenhouse gases and particulate matter than new trucks. It was filed with the EPA in November, two months after the EPA proposed a rule to rescind glider kit regulations. Gianforte's letter also accuses a former employee of the Engine Manufacturers Association of violating lobbying laws in his or her contact with EPA staffers while the study was being conducted.
The move to repeal glider emissions regs would allow glider kit builders like Fitzgerald Glider Kits and Harrison's Truck Centers to continue to install older, remanufactured engines and transmissions into new truck bodies and chassis. The glider emissions restrictions were part of the sweeping Phase 2 emissions regulations enacted in 2016. They require truck, engine and trailer manufacturers to reduce greenhouse gas emissions by roughly 25 percent over the course of a decade and would have held gliders to the same emissions standards as new trucks. The EPA's proposal to reverse the glider emissions regs would only remove the glider-specific portions of Phase 2.
As it stands, glider makers are left in limbo, given that the emissions regulations took effect in January. Absent a final rule from EPA, glider kit makers would have a yearly cap of 300 units that do not comply with Phase 2 regs.
A competing study on gliders, funded by Fitzgerald Glider Kits and conducted by Tennessee Tech University, has also come under scrutiny. Tennessee Tech said earlier this year it is investigating concerns raised by faculty members about the study and its conclusions. That study concluded that gliders do not produce emissions of greenhouse gases and particulate matter at a rate greater than that of new trucks. Tennessee Tech asked the EPA to ignore the study's conclusions until its investigation is complete.