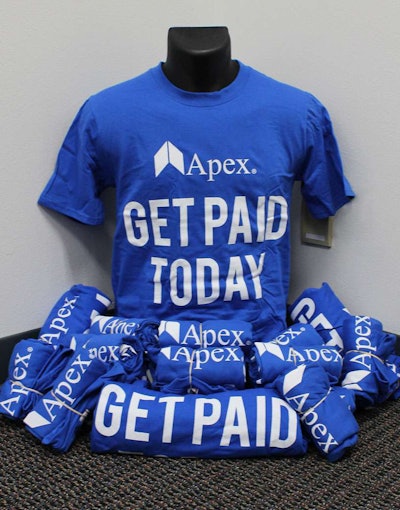 Apex Capital announced it is giving away $2,000 in cash at the Great American Trucking Show later this month. In its "Get Paid Today" giveaway, Apex will give away the cash in increments randomly throughout the show, culminating in a $500 giveaway on Saturday.
To enter the contest, show attendees must visit he Apex booth (#4321) and pick up a blue "Get Paid Today" Apex t-shirt. Throughout the show, Apex representatives will walk the show floor handing out envelopes of cash to those wearing the shirt. The cash amounts in the envelopes will range from $10 to $100, save for the final $500 giveaway on Saturday.
The Great American Trucking Show takes place Aug. 23-25 at the Kay Bailey Hutchison Convention Center in Dallas.