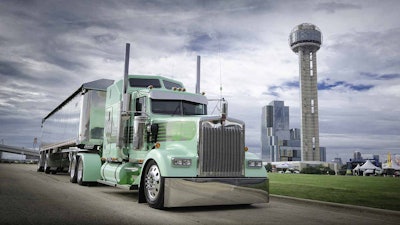 The Great American Trucking Show kicks off at noon on Thursday at the Kay Bailey Hutchison Center in Dallas, Texas. This year's show will feature numerous exhibitors, live entertainment, show trucks, business seminars and much more.
Overdrive's Pride & Polish and the Overdrive-Red Eye Radio Trucker Talent Search are among the several events happening this week at GATS. Dozens of custom show trucks are set to compete in Pride & Polish and will be on display indoors. In addition to the truck show, three truckers will participate in a sing-off style competition Friday to decide the winner of the fifth annual Trucker Talent Search.
The Rewarding Your Drive with Uber Freight Plus and GATS party is also scheduled for Friday and will feature headliner Tony Justice, as well as Jesse Raub Jr. and the Trucker Talent Search finalists. Other events occuring at GATS include four Partners in Business seminars and discussions with the Federal Motor Carrier Safety Administration on hours of service, autonomous trucks and electronic logging devices.
Overdrive will be covering the show every step of the way through Saturday. Here's how you can follow along this week:
Daily report: Sign up for Overdrive's daily newsletter to have the show's headlines sent directly to your inbox.
Facebook: Like Overdrive on Facebook for GATS highlights, including live video of the show's events, equipment announcements, truck photos and more.
Twitter: Follow @OverdriveUpdate on Twitter for a live look at what's happening in Dallas. For more in-depth show coverage, follow Editorial Director Max Heine (@maxheine), Senior Editor Todd Dills (@channel19todd), Senior Editor James Jaillet (@trucknewsJJ) and News Editor Matt Cole (@MattColeRR).
Instagram: For even more show photos and videos, follow @OverdriveTrucking on Instagram.