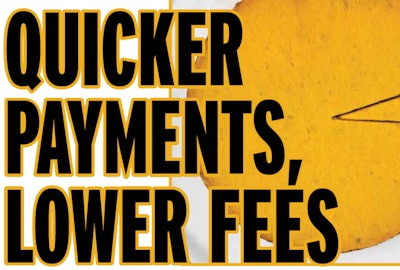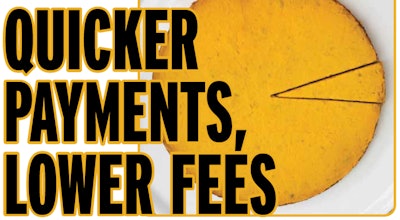 Since Overdrive's last feature on the wide world of load-invoice factoring, the practice of outsourcing receivables in exchange for a fee has grown, as have similar quick-pay services. In 2010, when we last asked the same question whose updated results appear below, only 16 percent of respondents reported using a factor. A full third had no idea what a factoring company even was.
One reason that awareness and use of factors have risen substantially is that following recovery from the 2008-09 Great Recession, money markets have loosened as interest rates have remained relatively low. That's led a wave of new factoring services, with "people looking for some way to employ funds to make some money" beyond traditional investing, says Brian Carlgren, Apex Capital's chief strategy officer. That drives prices lower, making factoring more attractive to truckers.
When MHC Financial Services went into the business in recent years, Kyle Cousins, part owner of the Fleenor Bros. Transportation fleet of about 50 power units, moved into factoring with a 1.5 percent fee per invoice. The factor is affiliated with the MHC Kenworth dealer network from whom Fleenor bought most of its trucks.
The offer is a recourse arrangement, in which Cousins and company ultimately are responsible for collections that go beyond 90 days. The factoring company holds the "recourse" to claw back its money from the fleet if the broker or other customer doesn't pay in the 90 days.
Such arrangements generally come at better rates than their opposite, nonrecourse factoring arrangements. These arrangements have been the most popular among one-truck and other small fleets with motor carrier authority.
"Nonrecourse is almost a no-brainer the way these fly-by-night brokers operate," says Danville, Alabama-based Hayden Eady. "It's probably worth giving 5 percent on a nonrecourse if I have to." Eady ran for about a year factoring as much as $250,000 worth of his loads through the Trucking Partners company, based in nearby Cullman, Alabama.
Independents working multibroker load boards such as those from DAT and Truckstop.com, often contracting for freight with unfamiliar parties, are at risk. For them, a nonrecourse arrangement can be effective insurance against a broker closing shop before they get paid.
It's the kind of agreement long-time operation TBS Factoring has with most of its clientele. "If in some cases the client doesn't pay, we take the hit," says Jennifer Fogg, TBS president.
Hence the higher rates commanded by nonrecourse factoring, which Fogg confirms indeed are under a lot of downward pressure, driven by competition among factoring companies. Pricing depends on the fleet's volume, creditworthiness and other factors, though some factoring companies standardize rates more than others.
Eady was under a 3 to 3.5 percent nonrecourse deal with Trucking Partners. Most such arrangements hold another small percentage amount in reserve, released to the carrier upon payment by the broker. Such amounts, and when they're released, could depend on the broker's creditworthiness to the factoring company.
As with any contract, the fine print can contain important terms. Some otherwise nonrecourse arrangements could become recourse after a certain amount of time. There could be fees for moving to another factoring company or ending the relationship. The factor could attempt to require you to factor all your business, not simply the difficult accounts.
At OTR Capital, where Florida-based independent Tim Philmon is in a nonrecourse arrangement at 4 percent, that's not the case. He continues to crawl back from a debt position following his 2016 venture into the Texas oilfields with his 2005 Peterbilt 379, well before the recent boom in business there. "That put me way behind the eight-ball in 2016," he says.
When Philmon restarted his authority to run brokered freight, he resumed factoring to keep his operation funded as he worked toward paying down debt. "I know a lot of people just run the standard 30 to 45 days to pay," typical in brokerage, he says. "I know people who've been hung out to dry" by one broker or another. "Then they've got to go run it down," a significant time investment.
All the while, there's "a month's worth of money out there. I don't want things to happen out there to where the money doesn't get paid out and I'm hung with 15 to 20 invoices out." OTR Capital "has treated me well," he says. "There have been brokers I've gone back to [for direct payment] rather than go through them. They had no problems with it."
Philmon considers this part of a good factoring arrangement — flexibility to use or not to use without penalty, something most reputable companies have no problem with. He does a fair amount of work with J.B. Hunt's brokerage side. Its quick-pay program comes for a 1.5 percent fee with a two-day turnaround, he says.
Next in this series: Pricing transparency, contract terms and more to consider in variety of factoring arrangements