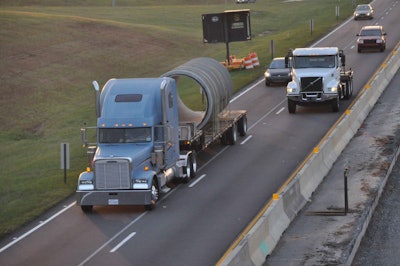 Insurance provider Progressive Commercial has launched a new usage-based insurance program that adjusts insurance rates based on data from drivers' electronic logging devices.
Progressive says its Smart Haul program will save drivers a minimum of 3 percent on their initial 12-month insurance policy that has primary liability coverage. The company will compare the trucker's driving habits to those of similar drivers and determine savings based on recent driving history. Progressive will assess the data at each renewal to determine drivers' savings.
If Progressive doesn't have a data sharing agreement with a driver's ELD provider, the driver will receive a 3 percent discount on the initial policy. If there is a data sharing agreement, the driver's data will be compared to data from other drivers that run similar miles and lanes, and savings on top of the initial 3 percent will be determined based on that information.
Data collected from the ELDs will vary depending on the ELD vendor, but the data typically will include vehicle speed and time information, VIN, location, vehicle diagnostics information and more. Progressive adds that if data such as hard braking is available from certain vendors, it will collect that information as well.
"We know many drivers are still becoming comfortable with ELDs" says John Barbagallo, Progressive's commercial lines president. "And we think turning the ELD requirement into an opportunity to save some money for safe driving will appeal to lots of truckers."