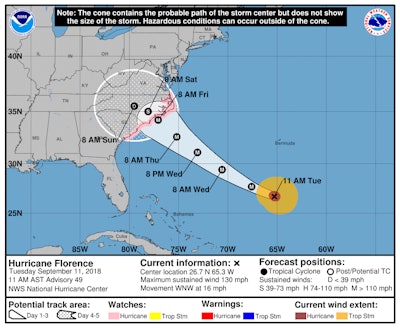 Update, Sept. 12, 12 p.m. EDT: The Federal Motor Carrier Safety Administration announced Wednesday it has added Tennessee and Kentucky to its list of states under the regional emergency declaration, bringing the total to 13 states and Washington, D.C.
Original story follows:
South Carolina Gov. Henry McMaster on Monday ordered a mandatory evacuation for residents of the South Carolina coast in preparation for Hurricane Florence, which warrants the reversal of several highway lanes. The Federal Motor Carrier Safety Administration has also issued a regional emergency declaration for 11 East Coast states and Washington, D.C.
FMCSA's declaration includes Florida, Georgia, South Carolina, North Carolina, Virginia, West Virginia, Maryland, New Jersey, Pennsylvania, New York and Delaware, along with D.C. The declaration exempts truck drivers providing direct support of relief efforts related to the hurricane from Parts 390 through 399 of the Federal Motor Carrier Safety Regulations. The declaration is effective immediately and will remain in effect through the duration of the emergency, or through Oct. 10, whichever is less.
To accommodate the evacuees coming from the South Carolina coast, eastbound lanes of I-26 from the I-526 interchange in Charleston to the I-77 interchange near Columbia will be reversed beginning at noon Tuesday. The video below from the South Carolina Department of Transportation explains the I-26 evacuation route.
Coming from the Myrtle Beach area, U.S. Highway 501 lanes from South Carolina 544 to U.S. 378 will all flow westbound, along with U.S. 501 between South Carolina 22 (the Conway Bypass) and South Carolina 576. This reversal will also begin at noon Tuesday.
Finally, for the Beaufort and Hilton Head area, South Carolina DOT officials will be prepared to reverse U.S. 278 and U.S. 21 if traffic conditions warrant.
As of Tuesday morning, Hurricane Florence is a Category 4 storm with sustained winds of 130 miles per hour, according to the National Hurricane Center. NHC says a restrengthening of the storm is forecast, and it is expected to be "an extremely dangerous major hurricane through Thursday night." Florence is forecast to make landfall on the coast of the Carolinas Thursday night, but tropical storm conditions are possible in the region as early as Thursday morning.
— SCDOT (@SCDOTPress) September 11, 2018