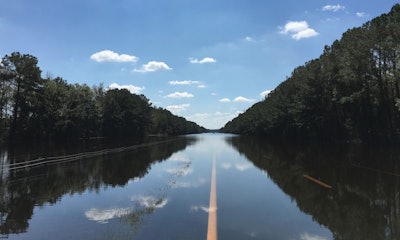 About 750 roads remain closed (down from 2,200), including sections of I-40 & I-95. US 258 in Kinston was closed Thurs due to flooding. Drivers should plan for US 70 to be closed as the Neuse continues to rise. US 421 at the New Hanover Co line is now closed. #FlorenceNC pic.twitter.com/e1oGxoH968

— NCDOT (@NCDOT) September 20, 2018
Drivers traveling through North Carolina and South Carolina this week are still feeling the effects of Hurricane Florence as sections of I-95 is still closed in both states, along with part of I-40 in North Carolina.
The North Carolina Department of Transportation says I-95 is closed in both directions between milemarker 19 and 56, northbound from milemarker 65 to 73, southbound from milemarker 81 to 65, and at southbound milemarker 138. I-40 is closed sporadically in both directions between milemarkers 364 and 420.
I-95 Southbound traffic from Virginia should use U.S. 64 West to I-540 West to I-40 West to U.S. 321 South to I-85 South, then follow directions in South Carolina to get back onto I-95. NCDOT adds drivers should not travel in areas south if U.S. 264 and east of I-73/I-74.
In South Carolina, I-95 has been closed in both directions at milemarker 175 due to rising waters of the Great Pee Dee River. All other parts of I-95 in the state are open.