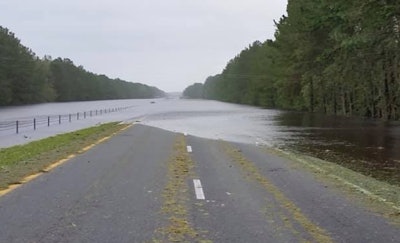 A number of highways in the Carolinas remain closed Monday as a result of catastrophic flooding from Hurricane Florence.
The North Carolina Department of Transportation says several sections of I-95 and I-40 are among nearly 1,100 road closures across the state. NCDOT is urging drivers not to drive in the state, if possible. The agency also advises against following GPS because the devices are not keeping up with the changing road closures and are directing people onto roads that are flooded.
NCDOT says drivers on I-95 Southbound from Virginia should use U.S. 64 West (exit 138) to I-540 West to I-40 West to U.S. 321 South to I-85 South, then following directions in South Carolina to get back to I-95 South. Up-to-date road closure information for North Carolina can be found here.
In South Carolina, I-95 Northbound is closed from exit 181 to milemarker 190. The South Carolina DOT says northbound traffic through the state should use I-26 Westbound to I-77 Northbound through Charlotte. I-85 through South Carolina is also open. Updated South Carolina highway information can be found here.
– About 1,100 road closures
– Wilmington INACCESSIBLE by land. DON'T travel, let responders work.
– Sections of I-95/40 flooded. No reopen time until crews assess damage.
– Avoid areas S of US 64/east of I-73/I-74
– https://t.co/Pbux7IDYBi: Use the route dropdown & incidents tab pic.twitter.com/XUFfcIoj25

— NCDOT (@NCDOT) September 17, 2018
Tweets from https://twitter.com/channel19todd/lists/roads-511