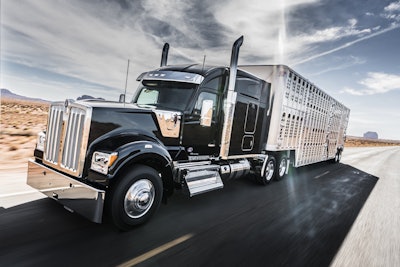 Kenworth has pulled the curtain back on a brand new tractor, the W990 — the latest addition to the company's iconic W900 line. The truck isn't replacing the W900L, which Kenworth General Manager Mike Dozier says "isn't going anywhere."
Kenworth unveiled the W990 at the Las Vegas Motor Speedway late Thursday. "I know there are a lot of questions. 'What's going to happen to the W900L?' The W900L's not going anywhere, but we're planning for the future and so it's another product to address what your business needs as well as addressing what drivers expect," Dozier explained.
The W990 fits a broad set of applications: line haul, pick up and delivery, regional and heavy haul.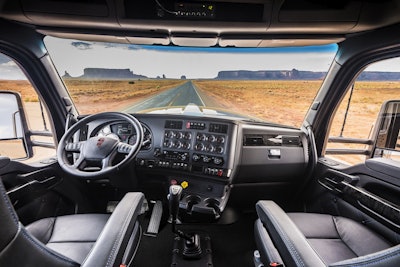 The truck's big body is hard to miss — 131.5 inches from bumper to back-of-cab. It's available in day cab, 40-inch flat top, and 52-inch and 76-inch mid-roof sleeper configurations. The W990 comes standard with Kenworth parent company Paccar's powertrain, which consists of the MX-13 engine (rated up to 510-hp and 1,850 pound-feet of torque), a 12-speed Paccar automated transmission and Paccar 40K tandem rear axles.
The W990 is built on the popular 2.1-meter cab platform used in the Kenworth T680 and T880. Comfort and style options include the Limited Edition cab and sleeper interior and the W990 Driver's Studio package of premium options.
The W990 Limited Edition interior comes in midnight black with glossy Ravenwood door and dash trim accents. The special interior features rich black leather, embroidered W990 logo, Royal Blue double-stitched diamond door pads, black leather-wrapped steering wheel with Royal Blue stitching, and driver and passenger seats with suede charcoal inserts and perforated leather with Royal Blue backing.
The W990 Driver's Studio offers a 180-degree swivel passenger seat and rotating table for two people, drawer-style refrigerator and convenient space ideal for a microwave.
Entertainment is provided by Kenworth's premium audio package with 320-watt amp, 10-inch subwoofer and eight speakers; swivel TV mount for up to a 28-inch flat screen TV; and optional EpicVue pre-wire for satellite TV. There's a full-size wardrobe space for hanging clothes, multiple storage drawers, and large storage space under the lower bunk. The 1800-watt inverter includes a shore power connection and four standard 120-volt sleeper outlets to power a range of electrical devices. Convenient LED lighting provides ample interior light throughout the sleeper.
The W990 comes standard with the Kenworth TruckTech+ remote diagnostics system. Kenworth NAV+HD seven-inch, color in-dash display provides access to features such as truck-specific navigation, roadside assistance, vehicle data, hands-free calling, audio controls, blind-spot camera inputs and Wi-Fi connectivity.
See more photos of the rig here: