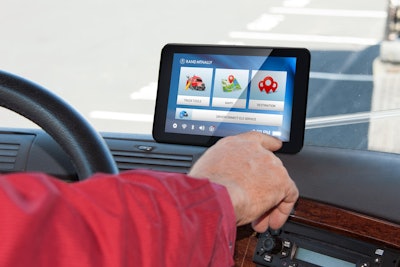 Rand McNally today announced its DriverConnect telematics and electronic logging device platform now supports the tracking of assets, whose locations are visible via log-in to the DriverConnect web portal. The company also unveiled two compact tracking devices, which transmit precise locations – whether the trackers are in motion or still.
The tracking solution is launching amid an environment in which tracking and the sharing of location information amount all parties to any freight move is rising in importance and prevalence as an expectation among shippers, brokers and carriers. Tracking information can be used to inform a customer of whereabouts, locate a missing or stolen trailer, or even confirm the presence of an asset in a yard.
Stephen Fletcher, CEO of Rand McNally, noted the new trackers, AssetTracker B100 and the rechargeable solar version with a battery backup, the S100, came about as thhe result of customer needs. "Transportation companies have asked us to provide seamless trailer, container and high-value asset tracking within our DriverConnect solution," he said, "so that they can access this new functionality from within the same environment that they already know."
Asset tracking with geofencing (the latter of which will be available in November this year) can be added to a current DriverConnect subscription, or invested in with the new devices for trucks and trailers. The new trackers send their location when idle and in motion using a built-in cellular modem that runs on a 4G LTE network.