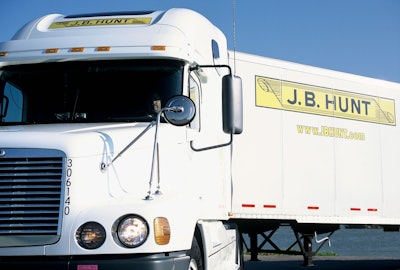 J.B. Hunt (No. 4 in the CCJ Top 250) is the latest carrier to become entangled in legal issues surrounding California's meal and rest break laws, among other labor laws mostly isolated in the state. Hunt has agreed to pay $15 million to settle a class-action lawsuit with certain intermodal and regional drivers employed in California between November 2003 and December 2018. According to court documents, the class of plaintiffs could total as many as 11,000 drivers.
If the full 11,000-member class is approved, the payout would equate to $1,363 per driver.
The case, now more than 10 years old, was brought by drivers who claim the carrier violated California labor laws by not providing meal breaks and paid rest breaks (required by California law) and that it didn't pay drivers minimum wage for all time worked.
The case is the latest to involve California's rest break laws. The American Trucking Associations and the Western State Trucking Association have actively sought to have trucking companies exempt from those rules, arguing they represent a conflict with federal law and have opened the door to questionable lawsuits against carriers — such as this one against J.B. Hunt.
Hunt appealed the case to the U.S. Supreme Court this year, but the court declined to hear it.
The carrier did not immediately respond to inquiries by Overdrive about the settlement. This story will be updated with their response if it becomes available.
The case against J.B. Hunt, Ortega v. J.B. Hunt, was originally filed in 2007. The class-action litigation sought back pay for J.B. Hunt drivers who were not awarded meal and rest breaks by the carrier and who were not paid for non-driving tasks.