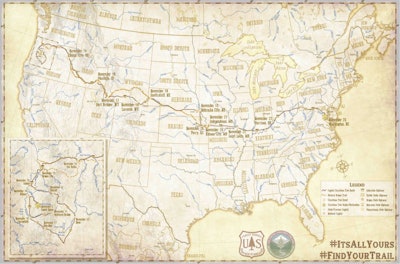 The 2018 U.S. Capitol Christmas Tree, which will be hauled this year by Central Oregon Truck Company, will begin its cross-country journey next week, stopping in more than 20 communities along the way before it reaches the U.S. Capitol.
The tree will be cut down on Friday, Nov. 2, and prepared to begin the more than 3,000-mile trip from Oregon's Willamette National Forest to D.C. The tour this year will commemorate the 175th anniversary of the Oregon Trail by following a reverse path of the trail.
The tree will be hauled on a new Kenworth W990 with the tour beginning Nov. 9, in Sweet Home, Oregon. Once in D.C., the tree will be displayed on the West Lawn of the U.S. Capitol. A public tree-lighting ceremony will be held in early December.
Tour stops include:
Friday, Nov. 9: Sweet Home, Oregon
Saturday, Nov. 10: Albany, Oregon
Saturday, Nov. 10: Springfield, Oregon
Sunday, Nov. 11: McKenzie Bridge, Oregon
Sunday, Nov. 11: Oakridge, Oregon
Monday, Nov. 12: Bend, Oregon
Monday, Nov. 12: Detroit, Oregon
Tuesday, Nov. 13: Salem, Oregon
Tuesday, Nov. 13: Oregon City, Oregon
Wednesday, Nov. 14: The Dalles, Oregon
Wednesday, Nov. 14: Baker City, Oregon
Friday, Nov. 16: Pocatello, Idaho
Saturday, Nov. 17: Fort Bridger, Wyoming
Sunday, Nov. 18: Laramie, Wyoming
Sunday, Nov. 18: Scottsbluff, Nebraska
Monday, Nov. 19: Nebraska City, Nebraska
Tuesday, Nov. 20: Perry, Kansas
Tuesday, Nov. 20: Kansas City, Missouri
Wednesday, Nov. 21: Independence, Missouri
Thursday, Nov. 22: St. Louis, Missouri
Friday, Nov. 23: Harrison, Ohio
Sunday, Nov. 25: Joint Base Andrews, Maryland