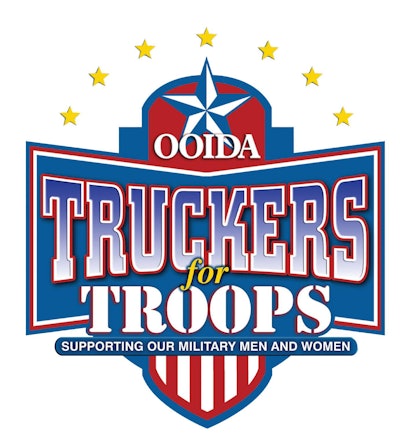 Truck drivers who want to support military service members overseas have an opportunity to do so through the Owner-Operator Independent Drivers Association's 12th annual Truckers for Troops care package campaign, which kicks off next week.
During the week leading up to Veterans Day, Nov. 5-9, OOIDA will hold a fundraising campaign for Truckers for Troops during which truckers can join OOIDA or renew their membership for $35, with 10 percent of that going toward care packages. The group then matches the 10 percent dollar for dollar.
Individual contributions beyond memberships to the Truckers for Troops fund will also be accepted and can be paid to the OOIDA Foundation, a 501(c)(3) nonprofit.
To contribute, join or renew, truckers can call OOIDA at 1-800-444-5791. The group is also seeking addresses for sending packages and is accepting personal cards or letters to include inside the packages.
Anyone who has a family member or friend serving in a combat zone with the military can send the name and complete address to [email protected], along with the projected stateside return date. OOIDA is also looking for veteran facilities with unmet needs.
Those who wish to send cards and letters can send them to: Truckers for Troops, P.O. Box 1000, Grain Valley, MO 64029. Town or school names can be included, but do not include last names or other personal information. Packages go out in January or February, so Christmas or holiday-themed cards are not necessary.
Over the last 11 years, Truckers for Troops has raised more than $500,000, allowing care packages to be sent to more than 36,000 military members.